As is tradition at each year's end, a horde of Nebraska music scene contributors told us about their favorites in local music, shows and developments while also looking ahead to 2018. Last week, they told us which songs and visuals stuck out; revisit here and here.
Today, our group describes their most memorable concerts from a year filled with big ones. Read on for their accounts of the whacky, the sweaty, the fledgling and the inspirational.
---
Maya Khasin, The Morbs/Plastic Garbage
I saw the Boner Killerz open for Mugen Hoso, a Japanese band, which had the most outrageously charismatic stage presence. Before even starting the set, the singer/guitarist began screaming and wouldn't start the show until we, the audience, were also screaming. Despite the near-absolute language barrier, they had us participating in call and response. It could have been anything. It could have been a recipe for chocolate cake. It was awesome. I was standing next to a guy I hadn't seen before, and we got to chatting, and I asked how he'd heard about the show. "I don't really go to shows," he said, "but I lived in Japan for 4 years and my friend thought I should check it out." I asked what the lyrics were about. "Oh, you know," he shrugged. "Punk stuff."
* * *
Zach Schmeider, The Sydney
Mykki Blanco played Waiting Room in February. I cannot express in words how important and awesome that show was. If you haven't heard Mykki, do yourself a favor. I wouldn't be able to properly fill you in without just going deep in the catalogue.
* * *
Ben Eisenberger, Hussies/Screaming Plastic
To be honest, I missed a lot of shows this year. I probably remember those shows more than the shows I got to attend. Screaming Females, Palm (twice?!), Big Thief, Boris, Bell Witch, Tatsuya Nakatani's solo set, Sheer Mag, Acid Mothers Temple, Roomful of Teeth… basically I need a day job. Not to mention some local slammers like the Hardcore Showcase and Femme Fest while I was abroad.
Of course I saw plenty of awesome stuff this year. Highlights for me include:
Tera Melos/Speedy Ortiz at Slowdown
Eight Songs for a Mad King performed at OutrSpaces during Omaha Under the Radar
Dana Jessen's bassoon set at Omaha Under the Radar
Ralph White at Simon Joyner's house
Lung at O'Leaver's
Deterioration at Milk Run
Curse at Milk Run (speaking of shows I missed, I think they recently came back.)
ZETA from Venezuela at Milk Run (poorly attended but absolutely ripping show. Hope they come back someday.)
Le Bucharettes at Vega
Tatsuya Nakatani Gong Orchestra and solo set at OutrSpaces
Sam Amidon at OutrSpaces (you should have been there)
Night Shapes at Brothers
Tera Melos at Slowdown | photo by Lauren Farris
Speedy Ortiz at Slowdown | photo by Lauren Farris
* * *
Kait Berreckman, Kait Berreckman Band/Omaha Girls Rock
In February I wandered into Waiting Room expecting to enjoy Mike Doughty's show but I was totally mesmerized. Doughty and various members of his stellar band took turns "conducting" each song — bringing in the organ when it felt right, gesturing for more drums or less guitar, all while keeping the groove and engaging the audience. I'm a sucker for a good arrangement, so to watch one come to life before my eyes and ears was a true joy.
That being said, I saw more shows in 2017 than ever before thanks to working the door at Waiting Room and Reverb as well as booking at Barley Street Tavern. Some local stand-outs included McCarthy Trenching at The 1200 Club, Anonymous Henchmen's CD release this September at Barley St. (with The Natural States & Pancho and the Contraband), Mesonjixx' solo performance at Omaha Girls Rock lunchtime (and probably all the other times I watched Mary on stage this year), Thick Paint opening for Mono at Waiting Room (my first time seeing them!), Enjoli & Timeless at Joslyn Castle, and SAS' residency at Barley Street in February. Oh, oh and Dreams of Venus: Mother's Nite at Reverb. So you know my metric, I just thought about all the shows I cried at this year.
* * *
Ben Buchnat, HN Social Media Intern
Favorite show had to be night one of House Fest in March. It had an incredibly stacked local lineup, with awesome performances from some of my favorites like The Way Out, Uh Oh, No Thanks and Walk By Sea. It was literally a collection of bands that I had been listening to since I started getting into the Nebraska music scene. House Fest was a really nice all-ages enviroment. Even though I'm 21 now, I think the Nebraska music scene really needs more all-ages shows like House Fest. It was super cool to see a bunch of younger music fans rocking out to these great locals. To top it all off, my favorite national discovery of the year Remo Drive was the closing band that night. It was so awesome and I loved the energy and excitement the room had for that band. House Fest was such a nice unifying moment for the scene and just an incredible night.
The Way Out at House Fest | photo by Lauren Farris
Chess Club at House Fest | photo by Lauren Farris
* * *
Dominique Morgan, Dominique Morgan & the Experience
It wasn't a concert, but Femme Fest was everything. The diversity and talent that the women of our scene displayed was awesome to say the least.
Edem Soul Music at Femme Fest | photo by Lauren Farris
Artichoke Hearts at Femme Fest | photo by Lauren Farris
Boner Killerz at Femme Fest | photo by Lauren Farris
* * *
Theo Marzorati, Vega
I really enjoyed seeing The 1975 with Pale Waves at the PBA. I didn't get to see as many touring acts as I wanted to because I am so busy working nights. As far as locals, I loved seeing Justified Aggression and Jocko open for Trash Talk. Those guys had some serious energy.
Justified Aggression at Vega | photo by Alex Durrant
Jocko at Vega | photo by Alex Durrant
Trash Talk at Vega | photo by Alex Durrant
* * *
Shannon Claire, KZUM
Charlie Musselwhite at Zoo Fest – Charlie Musselwhite is a blues legend. I have heard him played on every blues program KZUM has to offer over the last few years, however if you asked me to name a song, I couldn't. On the second night of Zoo Fest he and his band performed to a packed like sardines but could care less festival crowd. It was apparent a legend was gracing 14th street. As I stood amongst a crowd, that majority was 15-25 years plus my senior, there was a nostalgia in the air that was infectious, and I couldn't help but breathe deep. Musselwhite's charisma and charm flowed out every note from his electric harmonica and he totally put a spell on me. He had this growl when he sang that only the maturity in his voice could bring. Before I knew it, I was getting misty eyed as I realized I was witnessing perhaps what could be one of his last performances in Lincoln. His band was tight and exuded great musicianship, especially the lead guitar player, who you could tell Musselwhite was proud of, as he smiled after his every solo.
Downtown Boys at Maha Music Festival – Give me a punk band with a saxophone, a female lead vocalist who drops knowledge in both spanish and english, and call it a day! I had no idea they were on the festival line up, I somehow overlooked them, and I can still say to this day, that by 2 p.m. on the day of the fest I had seen the best performance of the day. The festival started at noon.
It totally makes sense that the Rhode Island band is signed to Sub Pop records, true punk music that you rarely come across these days. There's no way you can keep your fist restricted, or should you. Victoria Ruiz (vocalist) is fearless, unapologetic, raw and in your face, literally. She wants you to listen, as she has a lot to say, and rightfully so, she deserves your full attention.
Downtown Boys at Maha Music Festival | photo by Harrison Martin
* * *
Marq Manner, Omaha Entertainment and Arts Awards
Honestly, it's been a down year for me on live music in Omaha. Artists that I'm personally interested in were not coming through for the most part, and I went to a lot less shows than usual. That is me though. Every year is different. I want my favorite show of the year to always be some cool club show with a current band, but this year it was Queen with Adam Lambert as a replacement singer. I wasn't even planning on going to this show, but was offered tickets day of. It was one of the best productions visually I have ever seen (and I've seen a lot) and Adam was humble, yet the only frontman that could even try to play the role of Freddie Mercury. Brian and Roger are the best at what they do and I think they paid tribute to Freddie in a meticulous way, and it worked.
I also got to see Stephen Sheehan of my favorite Omaha band Digital Sex perform for the first time outside of some guest appearances in over a decade. He did a show at Reverb of music from his entire career including solo material, from Between The Leaves and The World. He put the right band together and it was it was truly a retrospective to be proud of, and one that gave his old fans something to push him to do again.
* * *
Taylor Sankey, Milk Run
Nebraska HC Fest 8 aka the "rave" of the century, was my favorite and least favorite for a lot of reasons. I am so thankful Brock Stephens decided to host it at Milk Run this year, and even though it was the last show we had at that location, it meant more than any other show we've had at that space. The support that everyone offered to put the event into place was humbling and I'm so thankful to be in a community where people care that much.
Suzi Q at Nebraska Hardcore Showcase | photo by Lauren Farris
Crease at Nebraska Hardcore Showcase | photo by Lauren Farris
* * *
L. Kent Wolgamott, Lincoln Journal Star
Given that I saw more than 200 bands/solo artists this year, this one's too hard to narrow down to one concert. In the arenas, I'll go with Garth Brooks, Kendrick Lamar, Lady Gaga and Green Day. In larger clubs, Drive-by Truckers at the Bourbon; Le Butcherettes at Vega; Regina Spektor at Rococo Theatre and Charli XCX at Bourbon (Lincoln Calling)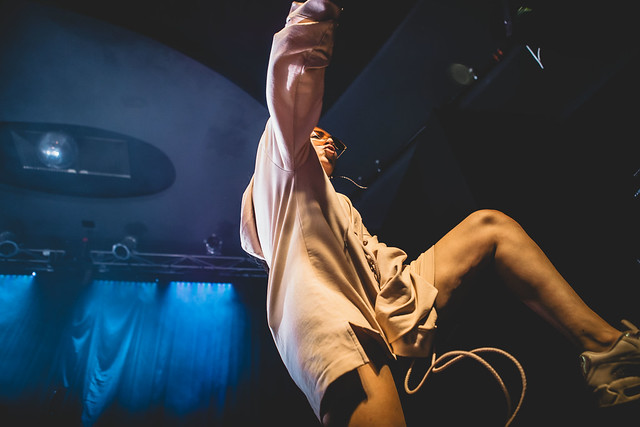 Charli XCX at The Bourbon
* * *
Sarah Bailey, Briner/Tragic Martha
My favorite concert in Nebraska this year was seeing Pile, Gnarwhal and Universe Contest on a boat traveling the Missouri River. Pile is one of my favorite bands and they put out a fantastic album, "A Hairshirt of Purpose", earlier this year. They played a killer live set in a small, intimate setting on the boat as it cruised down the river. You also can't beat seeing Gnarwhal, and Universe Contest on the same bill. And did I mention it was on a boat!?! (Lincoln Calling would have to be a VERY close second for my favorite concert experience this year. What a fantastic line-up of locals and touring acts!)  
* * *
Malik Shabal, M Shah
My favorite concert I saw in Nebraska in 2017 was probably the Small City Big Dreams show at the Bourbon in August. It was a really great example of a local Hip Hop show. SCBD was in the building representing, as well as DrewRill of Righteous Hand Records, and Bucii of Our Society. It really showcased the different varieties of Hip Hop in Lincoln and brought people together to enjoy some dope local music. They had the Rye Room at the Bourbon JUMPIN!
* * *
Erin McMorrow, DJ SharkWeek
I had a really great time at Hullabaloo this year. I think Brandon Miller and his family have done such a great reviving the old Sokol music and camp grounds. It was a smaller festival but so many good people were involved. The touring acts were astounding and the whole festival itself was very smooth with little to no set backs. I can't wait to see what next year's will be like.
Also, the New BLK's moving was a great local show. Conny Franko, Kethro, DFM, and Stephenbils put on a great show to send off the old space well.
Tank & the Bangas at Hullabaloo 2017 | photo by James Dean
* * *
Nate Van Fleet, See Through Dresses
Three shows come to mind: David Nance slayed it at the Omaha Take Cover show this year. Finally getting to see Alex G. at Lincoln Calling was a pretty special moment for me, because I've missed them every other time they've come through. In terms of sheer fun, though, watching Better Friend cover My Chemical Romance for Halloween would probably win out. That was sick.
David Nance at Take Cover | photo by Molly Misek
(Sandy) Alex G at Duffy's Tavern | photo by Lindsey Yoneda
Better Friend covers My Chemical Romance at 1867 Bar | photo by Arianna Bohning
* * *
Sam Crisler, HN Editorial Intern
Hands down the best show I saw this year was Super Ghost's final show at Lucy's Pub with The Spirit of The Beehive, This Machine Kills Vibes and Idlefox. Every band was fantastic, but I and everyone else was there to see Super Ghost one last time. I can't think of a more uniting feeling than when frontman Jake Newbold struck the opening chords of "Coat" and everyone in the Lucy's garage started bouncing around. That feeling of camaraderie carried through the show, ending with a massive group hug and sending Super Ghost out on the right note. It sucks they're done, but it's nice to have been a part of it.
* * *
Matt Epp, Gillie's Bar
Cruz Control all the time at Gillies.
* * *
Amanda DeBoer Bartlett, Omaha Under The Radar
I had a blast at Lincoln Calling. My faves from that event were Mesonjixx, Kait Berreckman, PUP, and Julie Byrne.
Mesonjixx at Lincoln Calling | photo by James Dean
PUP at The Bay | photo by Alex Ruybalid
* * *
Tim McMahan, Lazy-i
The Maha Music Festival — a mix of local and national acts, though they've lightened up on the locals in recent years. High Up was a stand-out.
High Up at Maha Music Festival | photo by Emma Petersen
Torres at Maha Music Festival | photo by Peter Barnes
Run The Jewels at Maha Music Festival | photo by Peter Barnes
* * *
Keith Roger, DJ Kethro/Make Believe Studios
TIE:
Post Animal at Duffy's, Lincoln Calling. The best concerts nowadays are when I'm caught by surprise. This performance was the perfect example. I had no idea the group even existed until I randomly stumbled into Duffy's and heard what I consider "Music you can ride a Harley on acid to."  After they were done, I just stood there asking myself, "What in the fuck just happened to my brain? I think I'm in love or something." My neck also hurt the next day.
SZA & Ravyn Lenae at Bourbon Theatre – SZA SZA SZA SZA. What else can I say? Her and Ravyn BODIED their performances and kept it 100 with the fans. The amount of love I felt in the room that evening was incomparable to any other show I've seen in Nebraska this year. There was a wide range of age groups in there and for a moment, everyone shared the same stories, same issues, same resolutions, and same ideas. There were no walls, no hate, no judgment. Just love.
Post Animal at Lincoln Calling | photo by Lindsey Yoneda