We start our Monday morning news coverage with photos from a packed weekend of shows.
Universe Contest returned home Saturday to play the final show of a 10-day tour in the backlot of Duffy's Tavern. HN contributor/former intern JP Davis was on hand to snap a few photos of the Lincoln prog rock's show with Stillwater, Okla., band DEERPEOPLE and Omaha's Calm fur.
Calm Fur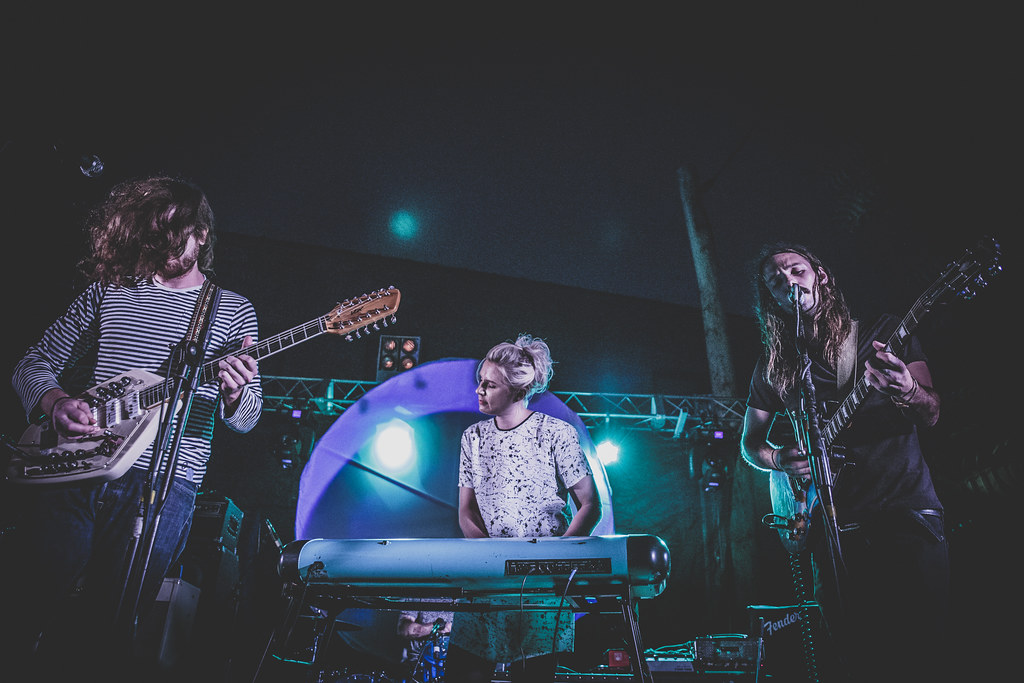 DEERPEOPLE
Universe Contest
— photos by JP Davis
* * *
HN contributor Ben Semisch navigated a packed Lookout Lounge crowd Friday night to get photos of Wisconsin punks Masked Intruder with The Shidiots, DSM-5 and the Cuterthans. It was the first show for the Cuterthans since 2006, and marked their second reunion. As we reported last week, the newly-resurrected band plans to release a 7-inch in the near future. It also meant a bust weekend for guitarist Jason Meyer (aka Jason Steady), who played with Calm Fur the next night at Duffy's Tavern.
View Semisch's photos below:
DSM-5
The Cuterthans
The Shidiots
Masked Intruder
— photos by Ben Semisch
* * *
A young man is on the run in the latest video from Omaha rapper J Crum.
"Mercy" is about the the times throughout Joshua Crum's (the emcee's given name) life in which he has benefitted from mercy. In the Boyz In The Hood-inspired video, the subject is seemingly in way over his head. A series of transactions heads south before the video's exciting conclusion, when the young man is on the receiving end of mercy himself.
See the "Mercy" video below, shot by Kansas City filmmaker Shawn Riddle. View more from J Crum here.
* * *
Omaha singer/songwriter Matt Whipkey talks about musicians who made an early impression on him recently in a profile for roots music website No Depression.
Whipkey cites an early Conor Oberst performance at an open mic night in 1997, during which Oberst played an acoustic Ovation through an overdriven half stack amp.
"To my 16-year-old ears, the tone was abrasively raw in an awesome way," Whipkey tells No Depression. "It definitely made an impression seeing someone close to my age deliver these very mature songs with amazing nervous energy."
In case you missed it, Whipkey played a string of dates with classic country singer Dwight Yoakam, a trip which took him to the Cascade Theater in Reason, Calif., and the Britt Festival in Medford, Ore. Whipkey told No Depression that it was an honor warming up for Yoakam throughout the summer, sentiments he echoed to HN.
"Dwight is one of the best onstage," Whipkey says. "There is no bullshit. It's amazing how he captivates a room with a shake of his hip and a twirl."
Whipkey continues: "Stepping onstage at a packed Surf Ballroom was a little overwhelming for many reasons, but I took great comfort in looking at the band and knowing that we supposed to be there, that it all made sense."
Read the No Depression profile on Matt Whipkey here, in which he also mentions a 2002 Bruce Springsteen performance at the defunct Kemper Arena in Kansas City, Mo., and a Wilco show at the Blue Note in Columbia, Mo.
* * *
Jumping back into photos, HN Contributor Cara Wilwerding went to O'Leaver's Friday to catch AZP, John Klemmensen & the Party and Working Man. Her photos are below:
Working Man
John Klemmensen & the Party
AZP
— photos by Cara Wilwerding
* * *
Finally, HN contributor James Dean grabbed some photos from Friday night's show at Vega, featuring electro-brass act Turbo Suit. Loveland and JMNM opened the show with DJ sets. See Dean's photos below:
JMNM
Loveland
Turbo Suit
—photos by James Dean
* * *
For a full listing of this week's shows, head to our statewide calendar at hearnebraska.org/event. We're always adding more, so if you do not see your show or one you plan to attend, email us at news@hearnebraska.org, or add it yourself.