There is a distinctly poetic sensibility about Ty Segall. You might not expect that given images of how the man fronts his new band, the Muggers: lumbering over the stage in blue coveralls, wearing a dead-eyed baby mask and whisking at his side what we can only assume to be his bloody (prop) umbilical cord. But it's there—in every rant about over-easy eggs and his want of a "mommy," in every ecstatic garage rock banger the Muggers ripped through Thursday night at the Waiting Room Lounge.
Max Holmquist-helmed Oquoa and the Los Angeles act Feels opened the show. Holmquist's low vocal register played a natural sonic counterpoint to keyboardist Patrick Newbery's melodic dreamscapes on tracks like "Move Your Bodies" and a handful of new material. While the rich tones of Holmquist's guitar were, at times, lost under the heavy bass, the performance brought out a raw power in the songs and Holmquist's voice that the band's recorded material neutralizes to some extent. The blanketing, sensual "Move Your Bodies" and soaring "Yellow Flags" were set highlights, and newer songs like "I Know" offered a glimpse into a vibey future, shifting through multiple ambient passages and then into faster, bass-driven jams as a part of one, encompassing song. The transition from Oquoa's reverb-laden dream rock to the frenetic, punk/fuzz of Feels created an instinctive escalation in the evening's tension.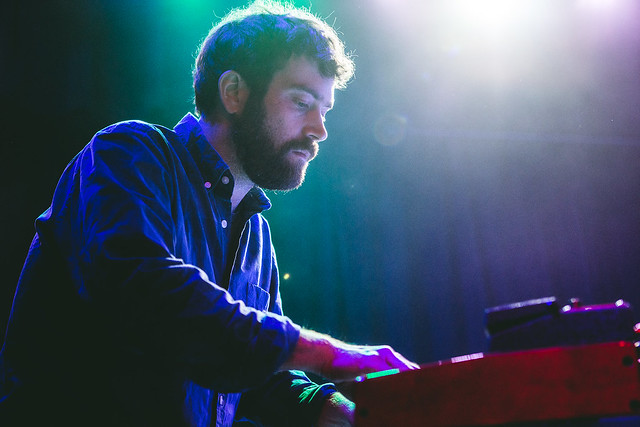 Feels, a four-piece led by Laena Geronimo, blazed through most of the tracks on their February debut album, from the wind-sprint punk thrash-fests "Unicorn" and "Play it Cool" to the commandant and swaggering "Small Talk." On stage, they were animated and dancing. Geronimo and guitarist Shannon Lay let their voices reign over the harmonies in "Bird's Eye," and the set ended with "Close My Eyes," a barrage of power chords and tempo-changes that rose into Feels' final, lasting frenzy.
Yet, as visceral as the openers were, there was still something wholly different in how the Muggers came out. Consisting of an indie-rock varsity lineup, (Kyle Thomas of King Tuff, Emmet Kelly, Mikal Cronin, Cory Hanson) they took the stage and laid into the first rupturing notes of "Squealer," the opening track of Segall's new album, Emotional Mugger, with a stark cohesion. It was louder than the opening acts, and sounded a bold contrast. On the record, the song feels start-and-stop, disjointed, almost, in how it moves into its smoother rhythms. Played live, the track, as the rest of the album did on Thursday, bloomed in a dramatic, infectious way.
And then there's Segall, the consummate professional, the insolent mall-rat, singing from within that hideous baby mask, clearer than anything we've yet heard.
Partly, the poetics of Segall come from the trust he places in whatever comes next, both in his lyrics and his antics at the show. He has released nine of his own albums since 2008, not to mention his many other projects, and he isn't known to write with much forethought. He doesn't know what the songs will end up being, what they'll communicate, and he doesn't much care. While his performance is practiced, it, too, carries an air of spontaneous combustion. When might Segall simply fall on the floor and stay there while the people packed into the front row scream for him to wake up? When will he twist that bald, baby cap around on his head as if possessed? When will he offer the microphone to individuals in the crowd, as if on a fishing line, for them to shriek into, so that others standing at the bar had to cover their ears?
When, as he did for the night's final encore song, will Segall launch into an anthemic rendition of the Beastie Boys' "Sabotage"?
United States Poet Laureate Robert Lowell had a saying that a poem "is an event, not the record of an event." It means, in some sense, that what the poem says through language is of secondary importance to what the poem simply is. In Segall's world, it isn't exactly important what he's singing about. The song's aren't so much about something as they simply are. Segall throws his body and voice into the lyrics of "Candy Sam," belting lines like "Candy's gone/no more fun," as intensely as he screams about finger cuts and a character named Milky Joe.
The language in the tracks ranges, too, from the wildly unparticular and vague, as in the "I'm back. I'm back. I'm back," of "Diversion," to lines that would make a graduate poetry workshop croon. As in the opening track, "Squealer:" "Hot soup waiting/Inside your ear," is the kind of pitch-perfect specific image a professor circles and stars and that the other students quietly resent or intend to steal.
And on another side, there is an explanatory video on the band's website about "emotional mugging," the made-up act behind the album's title. The video shows us an example of the mugging in action. The two demonstrators sit by each other, unmoving, expressionless. The lab worker documenting the interaction turns to the camera, smiles, offers a thumbs up.
The video suggests what we already suspect. Emotional mugging, like the majority of Segall's lyrics, doesn't "mean" something in the classic sense of the word. It's a ruse. It's obscure misdirection, aimed at those who would seek to interpret Segall's music, or, maybe more important to the artist, those who would interpret the big, baby-man himself.
That isn't to say Segall's music means nothing in a broad sense. And this isn't a criticism of him or the bands that opened, that put a more earnest emphasis on the act of communication. It is to say the Muggers' performance, the mask and theatrics, the songs are not content-driven expressions of anything other than the wild ambition to create, the primal joy in straight up rocking out.
Poet and teacher Richard Hugo puts it another way: "I would far rather mean what I say than say what I mean."
If anything's clear from the passion and playful attitude with which Segall performs, it's that he means what he says, means every little gesture he makes to his fans, groping their outstretched fingers, offering out his microphone as he and a red-faced crowd surfer share the moment.
Nate Sindelar is an HN contributor. Reach him through HN's managing editor at editorial@hearnebraska.org
---
See more photos from Thursday night at the Waiting Room below:
Oquoa
Feels
Ty Segall & the Muggers