The Alley in Lincoln was over-crowded and brimming with anticipation on a recent Thursday night. It was a free show featuring rising Lincoln hip-hop artist Scru Face Jean, and everyone wanted to hear him spit.
Or maybe it was the three free kegs. They went fast.
The show was scheduled to start at 10 p.m. with a long roster of local MCs to perform, including Aso, AZP and Fieldhouse. The kegs quickly dried up and people stood around with cheap cocktails for more than an hour waiting for the set to start. When it finally did, all tardiness was forgiven in one track.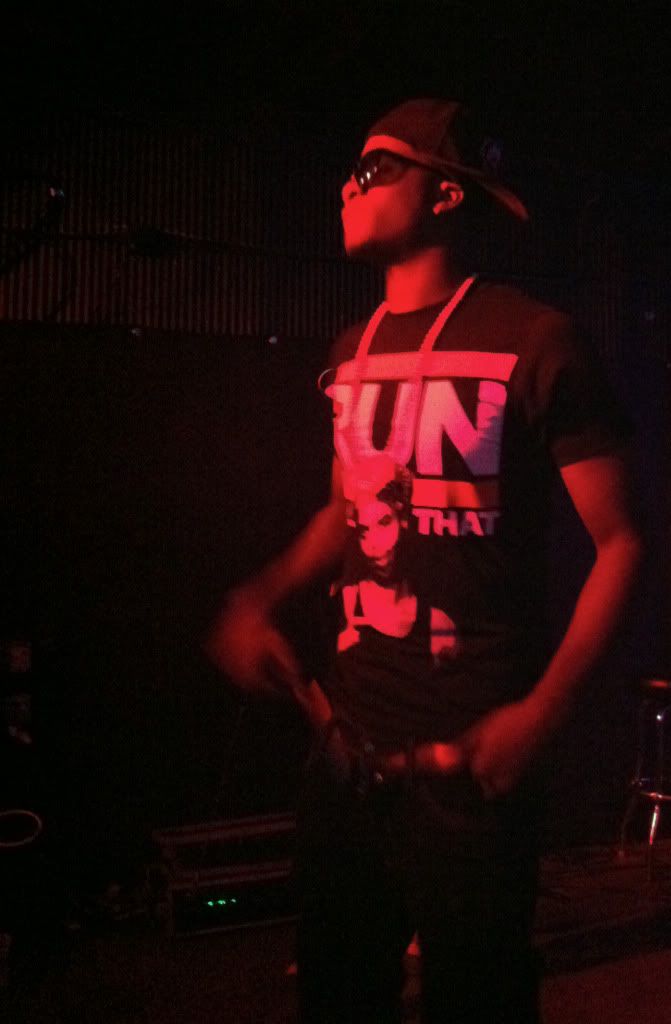 A young man wearing confident sunglasses and a single wooden chain took the stage. He introduced himself as Scru Face Jean, but for this crowd he didn't need it. People were screaming before he grabbed the mic, and as soon as he rhymed his first lyric, people were singing along and getting crazy.
This was a different audience than the typical, "music scene" Lincoln crowd I'm familiar with. This was Lincoln's regular dude's crowd, and they all came to party with Face.
"Lincoln's got a nice feel to it, especially after I started marketing my music to a more common-man audience," Face says in the alley outside of the Alley after his show. "I feel like a lot of rappers around here try to make music for an audience that isn't real. A lot of people try to do real hard-core stuff here, but me, I don't know any gangsters or drug dealers. Most of the people that I know are just regular people. I put out music everybody can feel."
Scru Face isn't your typical, local Nebraska rapper. His real name is Darrel Ofodirimwa, and he was born in Nigeria. He moved to Lincoln with his family when he was 4, and he's been rapping more than half his life.
"I've always done music, but I started rapping when I was 11 with some friends," Face says. "They were doing it for a while but they all sort of burned out, and that's when I learned that life is all on you. You got to own your own masters. You can't put it on anyone else."
Face is defined by his work ethic. He's tireless, prolific and not overly confident. He isn't rapping for fun, he's rapping his way to the top, and he doesn't care how many songs it takes.
"I started in high school doing some real small, basic mixtapes," Face says. "They got a lot of real good, positive feedback, so I just kept making mixtapes."
He's put out five individual, fully-loaded mixtapes in the last year since he started getting serious. That is, after he graduated from high school.
Face is only 19 years old. His talent showed up early, and showed up in a big way. He has a natural flow that sounds like it comes from a seasoned rapper 5-10 years older than himself, and with a national record deal.
"I was rapping before he was, his first song was on one of my CDs," says Derek Ofodirimwa, Face's older brother and one of his hype men. "When I put that life aside, he blew up from there. And he's prolific, he's amazing. I see a bright future for him. He's got a lot of appeal to a lot of different people, a lot of versatility and a lot of natural talent. I see him, therefore, making it."
Face definitely has appeal. He absolutely rocked the crowd at the Alley. He had them singing along and wanting more. He can definitely carry a live set, and he knows the give and take. His fanbase is growing in Lincoln, but he wants to take it outside the city.
"I'm basically striving for branching out," Face says. "I feel like I've done a lot of things in Lincoln, and now I need to do them in other places. I need the same number of fans in other places. We're on a mission. We have that momentum. I see bigger, that's the word I want to use."
Face wants to take his show, his talent and his soon-to-be-known name to Iowa, Kansas City and Denver, and eventually beyond. But Lincoln is naturally what inspires him.
"Lincoln is right in the middle, smack dab, so we get a little bit of everything," Face says. "We get a whole mix of eclectic sounds from all the other regions. And I think that living in Lincoln has helped me to see 'the real,' or the good more than the bad. I've been privileged to have had a pretty good life. I've generally kept it on the straight and narrow. And I feel that lets me have a wider base in my music, compared to people that have only lived one way and can only rap about one thing."
Still, Lincoln's artistically convenient location isn't really demographically convenient for Face. It's a challenge to make it as a rapper in Lincoln.
"It makes you a little bit more hungry," Face says. "All the coasts — East, West and South — all got their chance. It kind of makes you wonder when the heartland is going to have a chance. It makes you want to work hard to make it happen.
"We all want to be the first one. We're trying to build a new scene. If I lived in New York, I could walk down to Def Jam and rap outside all day and try to get picked up that way. I can't do that here. You have to make your own connections."
To help Face get his music out there, his long-time friend and hype man, Seth Maynard, takes on the responsibility of managing and promoting the young MC. He has his own hip-hop tribulations in a town like Lincoln.
"It's a challenge," Maynard says. "It's something you know won't be easy going into it. But I wouldn't have taken any person off the street to build a rap artist out of them. I got Face. He's got so much talent to work with. And he wants to work hard."
Face and Maynard are a close-knit partnership. They live together, they rap together and they plot Face's career together.
"We always try to keep it professional," Maynard says. "We try to do things catered to building his career, because it's hard in Lincoln. The music comes easy, this is the hard part."
Face strives for quality above all else. He won't put his name on anything — from his custom-made wood bling to his mixtapes to his websites — without being absolutely confident in its quality. If it doesn't set him apart from the competition, he can't accept it. This is especially true of the quality of his music videos.
"When we started doing videos, we said we cannot be 'the next person,'" Face says. "There's always a 'next person.' We have to be the first Scru Face Jean. We have to run this like a business, and not like a bunch of friends dicking around and making some music. We do it to the point where if my name is on it, you know it's professional, and likewise if it's professional, my name should be on it."
Face has a talent with national potential, and he has the drive and optimism to try and make it so. He's just waiting for the day when he can put out his first album.
"I always said I would release my first album when the time was right," Face says. "I don't think it's quite that time yet. For now I'll just keep putting out mixtapes. When people are yearning for an album so hard that I don't have a choice, that's when I'll make it. I'll let them decide."
Face's career is off to a strong start, and he believes can only get better from here. He and his supporters won't take failure as an option, and if anything is less than fantastic, it won't be Scru Face Jean's work.
"It's crazy," his brother says. "I remember when he wrote his first verse, so to see him at this level already is almost like a shock, but a pleasant shock, you know?"
Casey Welsch is the editorial intern at Hear Nebraska. He showed up early and had a lot of those kegs. You can contact him at caseywelsch@hearnebraska.org.