Omaha hardcore band Powerslop's instantly-classic closing performance at Saturday's Nebraska Hardcore Showcase gave its massive audience about all it could have wanted from the day's long-awaited final act. Vocalist Tyler Cain came with vintage energy and presence, stoking a crowd now spilling back over onto the stage. Those bodies had all but flown through the air since the act before, Era, played its first show since 2009, and also killed it.
As cathartic as that type of affair can be, the final one-two punch served as a special kind of tonic at the end of a long day. Most people were there for an intended purpose, the one they had began the afternoon for thirty blocks away at Milk Run. The habitual Lookout attendee who might have shown up in the middle of all this (provided they had logged-off social media) wouldn't have really known what the organizers, fans and bands had been through to get to that point. All the focus was still on the stage.
Era at the Nebraska Hardcore Showcase | photo by Lauren Farris
Powerslop at the Nebraska Hardcore Showcase | photo by Lauren Farris
The eighth-annual showcase had it all: two venues, 16 total bands, quick-hitting sets and a major unexpected interruption. Each band stuffed the best of their best into the confines of 20 minute sets designed to keep the line moving. It gave the showcase variety and intensity, and also paving the way for some excellent performances.
Milk Run was scheduled to host all day long. Suzi Q kicked things off promptly at 2 p.m., setting a pace that felt like musical interval training. With each new band, it was down the winding ramp into the basement's thick, moist air for the politically-agitational Justified Aggression; once they were finished, back up into the gentle, welcome breeze; then submerging back into the haze for Lifeguard and the circle pit.
Suzi Q | photo by Lauren Farris
Justified Aggression | photo by Lauren Farris
Away from the stage, the Hardcore Showcase was laid back and positive. With plenty of musicians ushering gear and their bandmates about the workshop-like upstairs and alleyway, a smattering of "good show" back slaps and highfives filled the air. Venue staff kept the environment relaxed. At one point in the early afternoon, someone walked up the alley toward the entrance with a small puppy "Wasabi", prompting a handful of people to flow that direction, one of them giddy and squealing like Ron Swanson at a Lil' Sebastian appearance.
The show's unfortunately momentous turn came during Crease's set, which marked the band's one-year anniversary (it debuted at last year's showcase). They had played with energy and precision and seemed only a little surprised when one of the show runners interrupted them during their closing number. The Omaha police had arrived, and while nothing was yet clear, an uneasiness fell upon the basement. Death cow continued to load in while some opened beer and others drifted to the exit. Finally, a few attendees came rushing through the building confirming that authorities were ordering everyone out.
Here is what happened, so far as we've been able to confirm: at about 6:20 p.m., five Omaha police officers showed up in four cars, telling everyone to leave. According to the scanner, a caller had reported a 30-plus-person rave with alcohol, narcotics and underage drinking (this tweeted by Mean Streets Omaha). Compounding the situation was the fact that the owner of the building in which Milk Run operates was not aware of their existence, according to Milk Run staff who had discovered this immediately following police contact. The space occupied by the venue was to be used only for storage, not for events of any kind.
Crease | photo by Lauren Farris
Venue co-manager Kelly Langin tells HN that no citation was issued as a result of the call-in. There was neither observable drugs nor underage drinking on the premises; in fact, venue policy was no drinking for anyone before 5 p.m., and the first few beers had been cracked just moments before police arrived. But the misunderstanding between occupant and owner meant 2578 Harney St had been shut down.
The hardcore showcase would continue, however. At about 7:09 p.m., as some patrons looked on from the outskirts of the block and bands gathered the last remaining gear, show organizers confirmed via Facebook the remaining lineup would play at Lookout Lounge starting at 9 p.m. Venue owner Kyle Fertwagner originally scheduled an off-date for Lookout, with both the Hardcore Showcase and the first Nebraska football game that evening.
Kyle, his brother and Lookout Lounge sound engineer Keith and their families were celebrating a birthday at Lake Union when Kyle received the text from show organizer Brock Stephens asking if they could move the showcase to Lookout. Everything fell into place, with Keith and a few venue staff immediately offering to help. Kyle says they didn't have to think twice.
"Brock [Stephens] and a lot of the people involved in putting the showcase on are old friends and the showcase means so much to so many people," Kyle said. "It's pretty much a holiday for a lot of people. Like the Super Bowl Sunday of hardcore and punk rock in Nebraska."
The rest of the showcase went off without incident. Death Cow relaunched the proceedings that featured killer sets by Bib, Loud Minority, No Thanks and Jocko. Band after band continued to whip the Lookout crowd into a frenzy before Powerslop brought it home.
No Thanks | photo by Lauren Farris
Jocko | photo by Lauren Farris
Langin attributes the showcase's success in the face of adversity to how much support there is for punk in Omaha.
"I saw people coordinating carpools immediately and I didn't hear anyone complain," Langin said. "The DIY and punk community is so tight-knit and everyone supports each other."
Meanwhile, Milk Run can't catch a break, and it continues to be difficult to run responsible DIY venues without being hassled. Church, formerly located in Lincoln's South Bottoms neighborhood, was forced to shut down last August after battling noise complaints and zoning laws. This is the second time Milk Run has had to relocate, after disagreements with ownership at its prior 19th & Leavenworth home led to the move to 26th & Harney.
Wherever it has operated, Milk Run has been one of the most responsible and well-run venues in the state, DIY or not. Not only are they serious and clear about policies that promote safety, their denizens take them seriously as well. There was no "rave" Saturday, and nothing resembling one. It appears as though the venue was simply caught in a bad situation, one it detailed in a Facebook post on Monday (which you can read here).
Either way, it'll have to move yet again, a process those involved have already started. In the short term, that means moving shows, something it had to do Saturday and again on Sunday.
Fortunately, the incident did not overshadow the rest of an incredible Nebraska Hardcore Showcase. Langin says it won't stop them from surviving.
"It'll be fine," Langin says. "We'll work it out like we always do."
---
See more photos from the eighth-annual Nebraska Hardcore Showcase below:
Suzi Q
photo by Lauren Farris
Justified Aggression

photo by Lauren Farris
Houma
photo by Lauren Farris
Lifeguard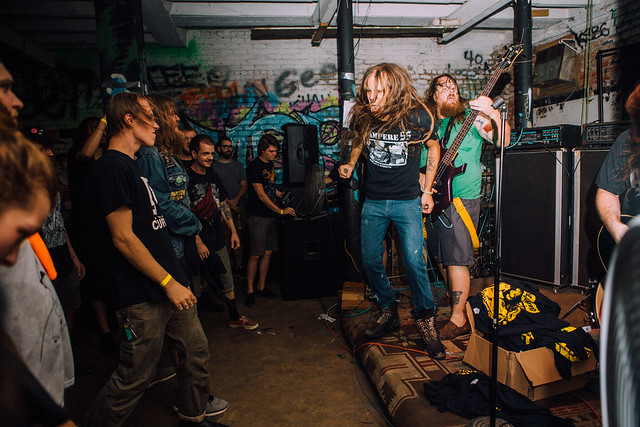 photo by Lauren Farris
The Boner Killerz
photo by Marti Vaughan
High Ruler
photo by Marti Vaughan
Inordinate Affection w/ CBN
photo by Marti Vaughan
RAF
photo by Lauren Farris
Crease

photo by Lauren Farris
Loud Minority
photo by Lauren Farris
No Thanks
photo by Lauren Farris
Jocko
photo by Lauren Farris
BIB
photo by Lauren Farris
Era
photos by Lauren Farris
Powerslop
photo by Lauren Farris