story and photos by Brad Kindler
In 1987, Lincoln, Nebraska's Memorial Stadium was host to the third-annual Farm Aid concert. I was five years old, and I remember it well, sitting in the blue velvet back seat of my family's used white Cadillac with my sister, as we turned the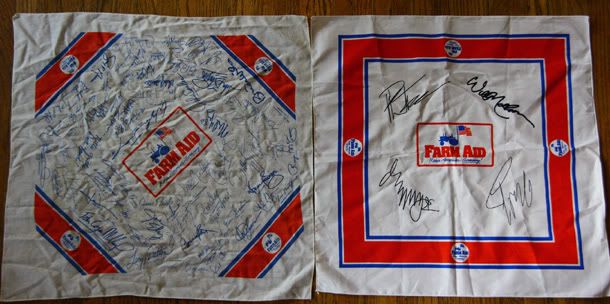 streets of north Lincoln. We didn't have tickets to go to the show, but my dad was inspired to head down to the UNL campus anyway. I remember Mom was driving while Dad hollered out the passenger window celebrating the concert. The lights of the stadium flooded the night sky, and the music poured out past the concrete stadium walls.
Flash forward to last weekend: 24 years later I'm inside the LIVESTRONG Sporting Park in Kansas City, for Farm Aid's 26th-annual event. The brand new Kansas City soccer stadium was alive with music, local food,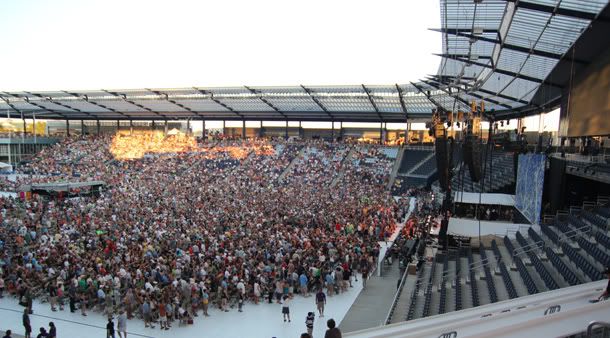 cowboy hats, family farmers and college kids — everyone young and old, together for this great event. Neil Young, Willie Nelson and John Cougar Mellencamp are still a part of the show, a testament to the concert's true spirit. This year they are were also joined by Dave Matthews, Jakob Dylan, Ray Price, Rebecca Pidgeon, Billy Joe Shaver, Jamey Johnson, Jason Mraz, John Trudell and other artists who are dedicated to helping America's farmers stay on their land. This is as real as it gets at the top. Farm Aid is a large concert series that hasn't sold out its mission, presentation or audience.
The night before the main event, Lincoln's own musical group Amalgamators played for the Farm Aid Kickoff event, held in the pavilion outside of the LIVESTRONG Stadium entrance. The evening also featured Kansas City's
Oriole Post
, a rustic music troupe of strings, delicate songs and great breakdowns. The pavilion was set up like a farmer's market. Dried corn stalks were tied to the edges of booths that housed both food vendors and agricultural information groups. Straw bales and summer sunflower bouquets framed the exhibits.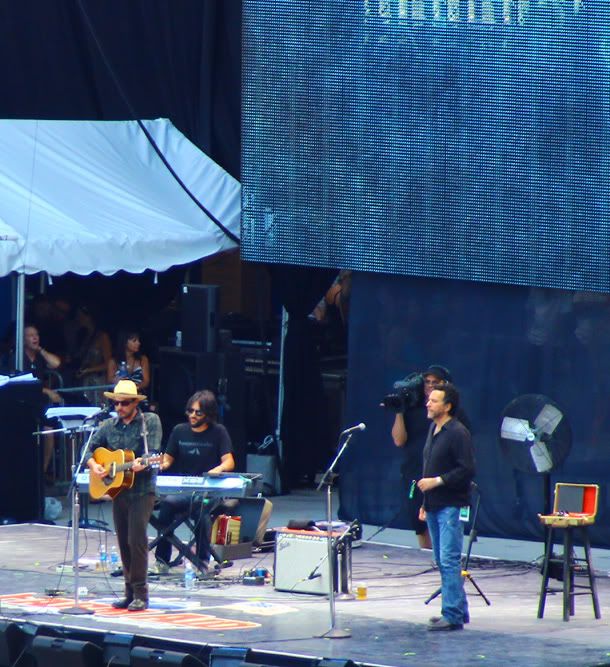 The tents stayed up throughout Saturday's concert, and served as a dynamic hub of education and engagement with farmers, their advocates and the general audience.This is a feature of Farm Aid that reinforces the concert's commitment to both family farms and the organizations that are working to build the movement around organic and locally sourced foods.
Farm Aid organizers held an 11 a.m. press conference on Saturday morning. I was feeling no pain when I woke up, but that subtlety turned into a star-struck hangover when Neil Young, Willie Nelson, John Mellencamp and Dave Matthews stepped onto the stage, joined by Jim Hightower and Dennis Kucinich, area farmers and agricultural
advocates
from the Kansas City area. The press conference served as a platform for the artists and organizers to convey the greater meaning of the concert, or as Jim Hightower put it, "We're here to confront the powers that be, with the powers that ought to be." It's time to "raise less corn, and more hell." And that became the take home message from the stage all day.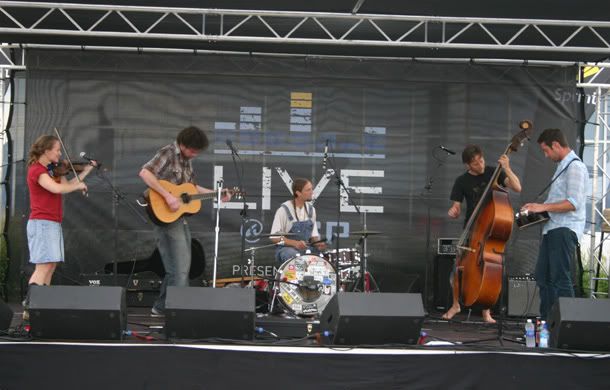 Contemporary consolidation of the food system continues to marginalize family farmers. This can be seen in the corporate control of seed genetics, through intellectual property rights and the inability of farmers to save seed from "patented germplasm." This profound agricultural shift has large implications for organic growers and seed producers whose own varieties of open-pollinated crops may become contaminated with corporate patented genes. Marginalization also extends to independent and partnered meat producers who are squeezed out of premium prices for similar or higher quality animals. This is because mega-farms earn favor from large processors who administer volume price premiums. Additionally, Neil Young took time to describe the theft of the family farmer's image for advertising advantage and corporate profits.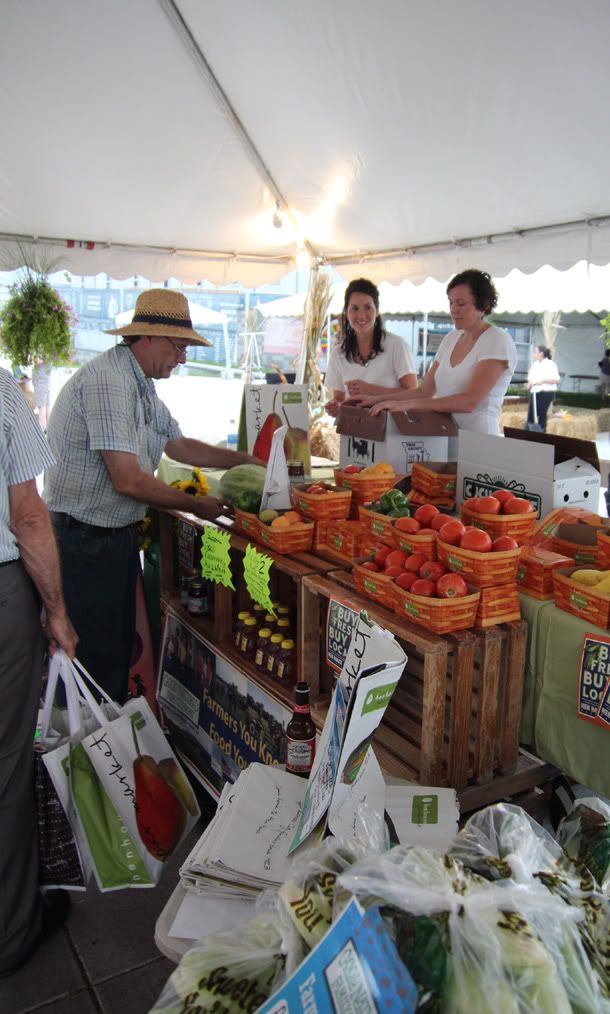 The corporate agricultural machine continues to exploit the image of the family farmer as a means to sell its products. Young urged consumers and farm advocates to be more aware of this practice so that we can learn how to best support farms that are run by real farmers who produce real food. Having this direct relationship with a farm to its products represents an economically viable alternative for the family farm model. It also helps to chisel away at corporate monopolies such as Monsanto, Tyson, Cargill, ADM — all of which were mentioned by name at the press conference. These large, faceless, corporate entities currently wield a lot of damaging power in our fields, as well in the halls of Washington.
It is worth noting one more point from the morning's press conference. House Rep. Dennis Kucinich from Ohio was also on the stage. His presence didn't stop Mellencamp, who proceeded to drop the f-bomb when asked about what he sees happening in America as he travels the country playing shows. "These fucking politicians better do something!" he exclaimed, albeit with a prefacing apology. Bipartisanship and Washington's inability to achieve any meaningful consensus is truly affecting real Americans, farmers and factory workers alike. With a smile, I realized Mellencamp has always spoke for the people, in his music and now on public record, using his microphone as an artist to say what many Americans are already thinking and feeling.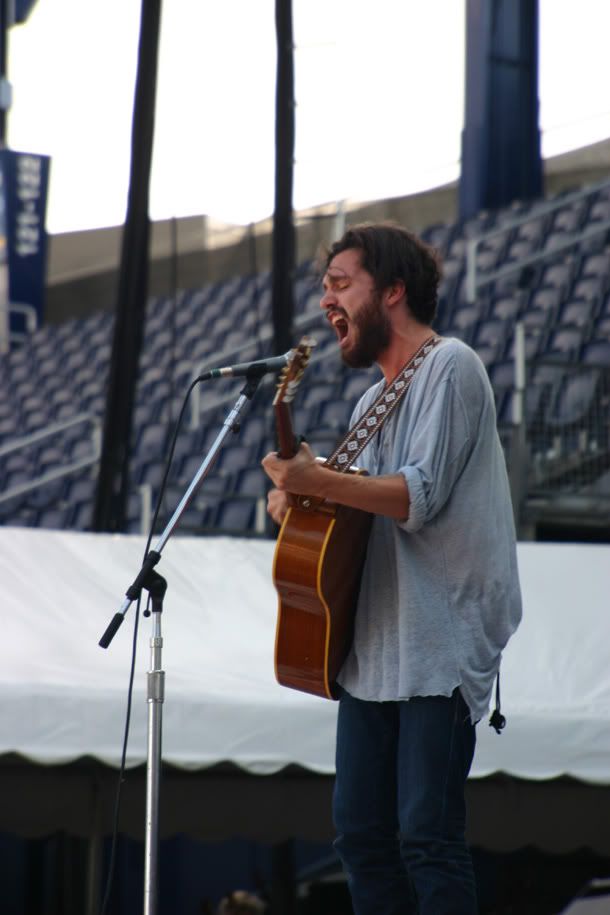 The Farm Aid bill is, of course, a star-studded lineup of big names in country, rock and folk music. Over its 26-year run, just about every major artist in these musical genres has graced its stage. It is worth noting that the entire concert is a benefit for the Farm Aid cause. None of the musicians get paid, and there is only Farm Aid brand merchandise for sale around the stadium. Additionally, Farm Aid established a concessions menu of locally grown and Kansas-sourced foods, including local chicken and beef, salads and their ingredients. This is a spectacular change from the food otherwise found at sporting stadiums, and once again demonstrates the integrity of the Farm Aid event in exemplifying their commitment to being the change they want to see.
The day-long event got rolling at 1 p.m. with Willie Nelson and members from Denise Alley's "Wisdom Indian Dancers" opening the day with Willie signing the "Lord's Prayer" while also being performed in Native American sign language. The spectacle and talent of the performances throughout the day was impressive, and because I'm not a journalist I'll save the big show details for somebody else to report. What I will recount are some of the more memorable parts of the show.
(For a story about $8.50 Budweiser, VIP passes, a smuggled bottle of JD, 5th row center seating and seeing myself occasionally projected onto the two-story-tall video monitor, find me on the street.)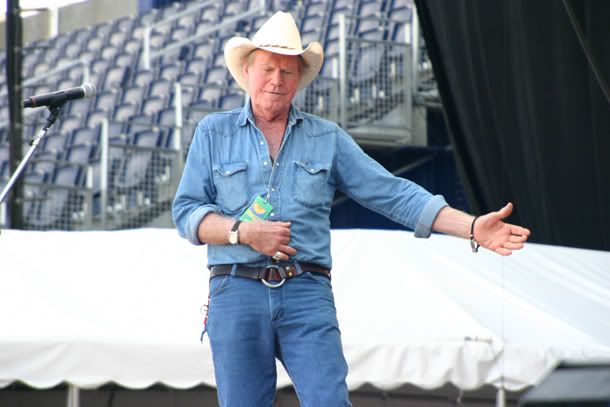 Playing early in the day, Robert Francis did a stellar version of Bruce Springsteen's " I'm on Fire." This was certainly well received by the crowd, and Francis' falsetto vocal style lends itself well to these types of covers. His own music was good, too, and for playing solo on an acoustic guitar in front of thousands of people, he played a solid set of folksy, indie-acoustic jams.
Country legends Ray Price and Billy Joe Shaver played early sets as well. I can certainly say hats off to Ray Price and his band of old-fashioned country musicians. His vocals are still golden, and his band looks as honest as a church choir. In contrast with that was Billy Joe Shaver, who opened his set with "Wacko from Waco." Mr. Shaver wore denim head to toe, and was backed up by some serious country hessians. He sang a rowdy set about ex-wives, fighting and never giving up. Shaver showed Farm Aid that country music, like punk rock, is not dead.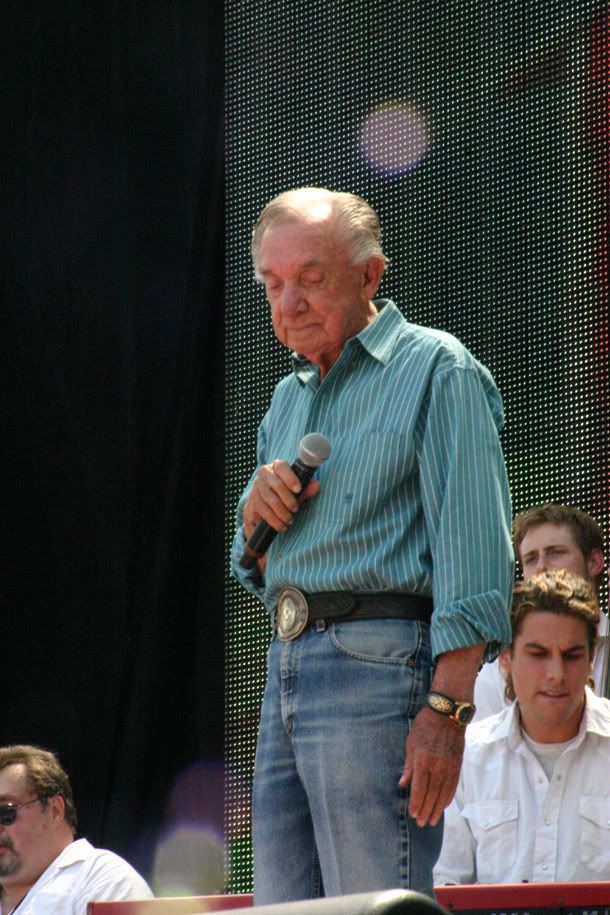 Jason Mraz did a version of Mr. Rogers' "Won't You be My Neighbor," which ended in a collective stadium high-five with your neighbors in the crowd. It left me feeling a bit like the "peace be with you" handshake that goes down at the end of a Catholic mass, which I think was Mraz's point. His message was entirely positive and proactive, championing the cause of not only the farmer, but the individual as well as the community. Additionally, he referred to Farm Aid as the "Thanksgiving of concerts" — an annual opportunity to celebrate food and the communities of farmers that produce it.
The last four performers were Farm Aid board members Dave Matthews, John Mellencamp, Neil Young and Willie Nelson. At first, I wondered how it came to be that Dave Matthews was aligned with these other Farm Aid icons. It wasn't until after the press conference and well into the show that I figured out what was going on. Just like a transition that may occur on a family farm, Farm Aid elders are grooming younger musicians like Dave Matthews to take over production of the event someday.
I believe that developing an internship/mentorship program by Farm Aid originators on how to keep the message real and one's cause always in sight is an appropriate approach to keeping music joined to philanthropy. Just as farms should not die when Grandpa and Grandma do, instead persisting through thoughtful planning and entrusting skills and responsibility to the next generation. This can be seen in the addition of Willie Nelson's son Lucas Nelson to the lineup, as well as in
performers like Jakob Dylan, who is the son of Bob Dylan. It is a blessed beautiful trust, one that we have lost in the larger American culture, but one that persists in the remnants of mindful living.
To begin the end of the night, John Mellencamp opened with "Authority Song" played in a rowdy vein, similar to The Clash's version of "I Fought the Law." His act was polished and spirited; a testament to a professional life he has lived on the stage. He was also flanked by a small, iridescent plastic Jesus. There may be some other spiritual significance to this show feature, but I'm calling out a Cool Hand Luke movie reference. It wouldn't be his first one, as you may recall his famous line from "Rain on the Scarecrow" when John sings Paul Newman's (Cool Hand Luke) line "well calling it your job there boss, sure don't make it right … so if I may I'll say a prayer for your soul tonight." Classic.
Neil Young played solo with only his harmonica and acoustic guitar. He opened with "Comes a Time" and made me cry with all six numbers he did, including "Long May You Run" and "Heart of Gold." This was truly a performance you can only see at Farm Aid. In between songs he advocated this message: "Any food you buy that's not from the USA … it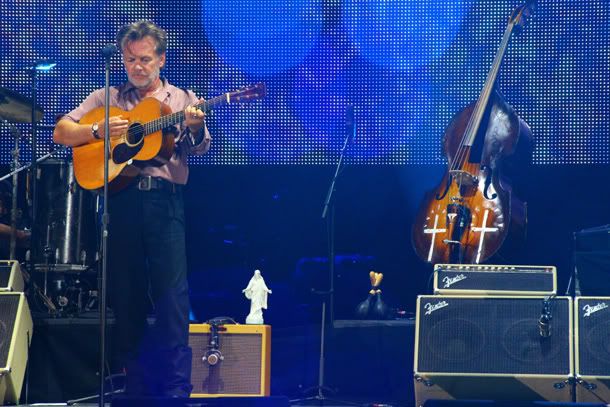 didn't come to you from a family farmer — it came to you from a corporate farm. They couldn't grow it themselves so they got it from somewhere else, and they brought it to you and you paid them, that's what's keeping them going folks .. .So you can make a difference, just a little difference goes a long way, if everybody does just a little bit."
Willie Nelson and the Family Band brought the show to a close with some classic country in addition to some songs people might have not expected. As a reggae music fan, it was great to see Willie keep it real to his 2005 Countryman release, by doing a reggae rhythm with a Rasta MC (whose name I didn't catch) that he brought in with him from Hawaii. It was pretty late at this point in the night and the reggae song wasn't great, but it provided a good segue into one of Willie's last songs, "Roll Me Up and Smoke Me When I Die."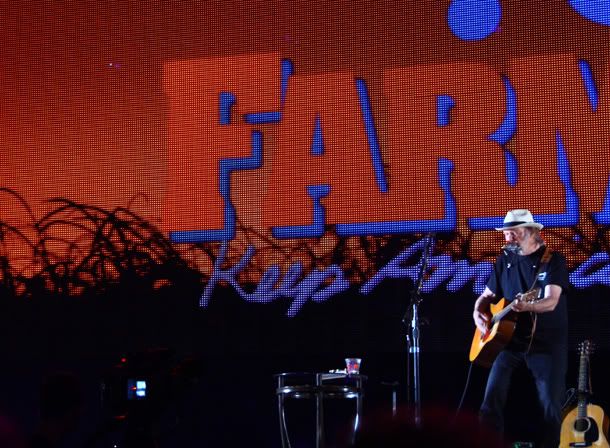 Irie feeling, Willie!
Viewed in its entirety, Farm Aid is much larger than the concert. There is a thriving Farm Aid non-profit organization that supports farmer outreach and education throughout the year. Assisting in areas of education and outreach, Farm Aid helps growers access local markets and continues to help grow the local and organic food movement in the U.S. Farm Aid also supports farmers in crisis by providing phone hotlines and web resources dedicated to those who may be in situations to lose their land or have suffered loss from a natural disaster. This past year, Farm Aid also awarded more than $480,000 in grants to family farms and rural service organizations. Nebraska's Center for Rural Affairs and the Interchurch Ministries of Nebraska were recipients of $15,000 of these generous grant funds. More importantly, Farm Aid is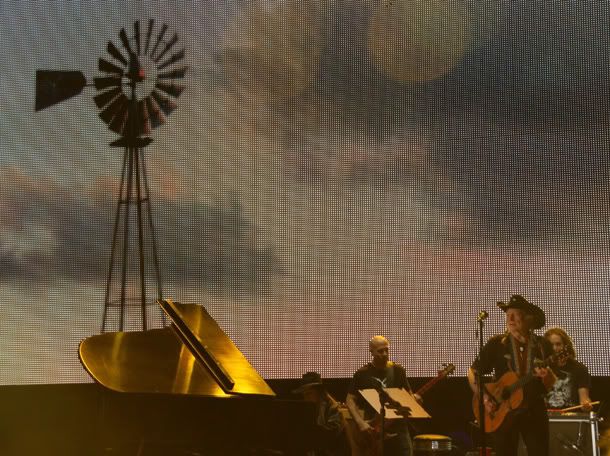 about continuing to create a farming culture that embodies the best of America's farms. It is a celebration of honest work with honest reward. It is an ethic of stewardship for the land and also for our community. Farm Aid is about putting the word "progress" back in "progressive," and as Jim Hightower voiced, "Telling those who say it can't be done, to not interrupt those that are doing it."
Otherwise, you'll see him playing drums with Kill County.