photos by Randy Edwards | reviews by Kekeli Dawes and Hanna Guenther
Benson was abuzz on Friday night with exhibitions of visual and performance art in bars, galleries and on street corners. The evening was a fundraiser for the normal Benson First Friday festivities with more than 20 musical acts performing across several neighborhood venues.
"It's very natural, I think, to pair [music and art] together — you get all spectrums of artistic talent," organizer Alex Jochim told Hear Nebraska last week. 
Three members of Hear Nebraska's editorial crew were on hand Friday night to cover the musical showcase. Find reviews and photos of several of the evening's shows below. It includes coverage of Life Is Cool, The Decatures, Lars & Mal, Kaitlyn Hova, CJ Mills, Goon Saloon and more.
---
Dominique Morgan at Petshop
---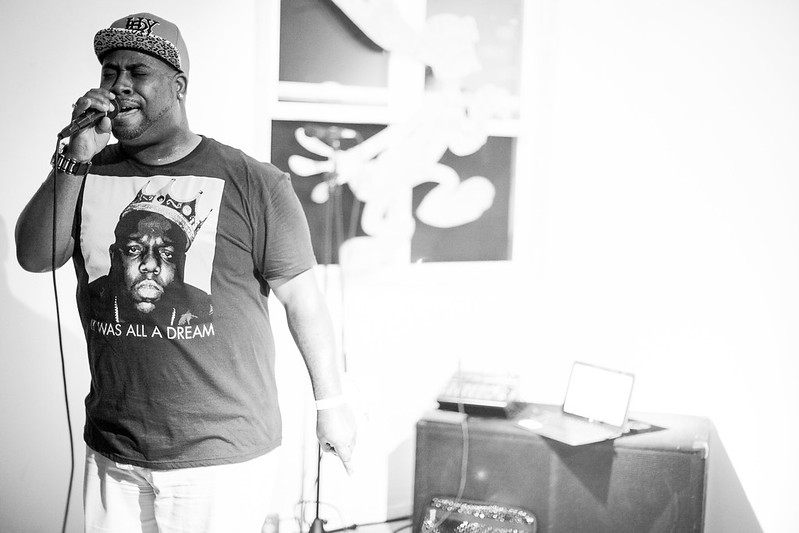 ---
Life Is Cool at Sweatshop Gallery
---
---
Shuless at The Sydney
---
by Kekeli Dawes
This was the first time Omaha emcee Shuless has taken the stage, but was captivating nonetheless. His delivery was confident, and even in spurts of triplet-based lyrical sprints, his words remained clear. His flow was circular, with phrasing extended beyond the bar to complete ideas and concepts. Tracks, like "Imagine," dipped in and out of narrative and into vivid imagery, all in an active tense that made for an engaging listening: "The present is a present/ this is present tense…" Though most of The Sydney's patrons, unfamiliar with Shuless onstage, the ones not grabbing another round were hooked on the rapper's performance.
---
Shook on3 and Galvanized-tron at The Sydney
---
---
Brad Hoshaw, Vern Fergesen and Jessica Errett on Brad's Corner
---

---
Goon Saloon at Barley Street Tavern
---
review by Kekeli Dawes
Goon Saloon busted out swinging. Their sound has a wide gait, with a long stride. They broke into Barley Street with a big-footed garage rock jam, sloppy, mean and satisfying. The group had two settings, rough and rougher — it's as if the band was waiting for choruses to unhinge and let loose. Goon Saloon was practically hemorrhaging guitar distortion that they only turned up higher for solos and their wall-of-sound refrains. The icing on the cake was a song they said was inspired by Pirates of the Caribbean (the novel). It grew a beard.
---
Kait Berreckman at The Pizza Shoppe
---
---
Kaitlyn Hova at Petshop
---
review by Hanna Guenther
As her bow brushed against the strings of her violin, Kaityln Hova experienced notes as a rainbow of colors, rather than the layers of sound the people packed into Petshop took in on Friday night.
With electric violin in hand and DJ Johnny Beatz backing her up with remixes of popular songs like "Teenage Dream" by Katy Perry and "Who'd Have Known" by Lily Allen, Hova introduced a unique act to the Fourth Friday festivities. With her advanced skill on the violin, she played effortlessly alongside well-known artists via computer. She took advantage of the entire upstairs space, gliding up and down the aisle with graceful yet sharp movements, mimicking the intensity of the notes.
Ending the night with a purely instrumental version of "Heart Attack" by Demi Lovato, Hova took what people know of traditional violin playing and radio pop songs and flipped them upside down. This provided a sense of familiarity for the audience to latch onto, while still allowing herself to push musical boundaries with her skill on an unassuming instrument of rock.
---
CJ Mills at Barley Street Tavern
---
review by Kekeli Dawes
Given the strong and confident stage and vocal presence of Omaha singer-songwriter CJ Mills, it's difficult not to draw parallels to R&B titan Lauryn Hill. Stylistically, they are similar; Mills' rhythmic range spans rock, latin grooves, soul and reggae. Mills' voice was clear, and cut through the warm, dimly lit back room of Barley Street. Reverb added to the clarity of her pitch perfect runs and flares which were distinct and exciting, not your cliché, run-of-the-mill R&B flashes that grace many an American Idol audition. Mills' lyrics, largely about tumultuous relationships, were as emotive as her delivery. She was received well by those in the room, who were pin-drop silent while Mills' reverb-washed voice and guitar filled the room, but hooted and hollered with applause once each song ended.
---
Sean Pratt and The Sweats at Sweatshop Gallery
---

---
Lars & Mal at Petshop
---
review by Hanna Guenther
A circle of people sat shoulder-to-shoulder around the five-piece band known as Lars & Mal. The small white room felt familiar and the band resembled old friends as they conversed with the crowd, making bad jokes that were funny because they weren't funny.
The band gave off an organic sound with emphasis on the harmonies of Laura Duffield Weiss and Mallory Finch. Weiss' guitar along with the piano and the steady beat of the cajon drum created the undertone that followed the vocalist's lead. While their voices resembled a folksy tone, there were moments of soul blending two different music genres together effortlessly. The layered harmonies melded into one unified and powerful voice, silencing the chatter of the crowd into an intent focus.
Capping off the set with their song "Greatest Defense," Lars & Mal captivated the crowd, as the only cry for an encore that evening solidified the positive consensus.
---
Greg Harries and Lindsey Hand at Petshop
---
---
The Decatures at Sweatshop Gallery
---
review by Hanna Guenther
"We are a loud band," prefaced The Decatures' vocalist and guitarist Charlie Encell at Sweatshop on Friday night. Providing complimentary ear plugs, The Decatures began their set with hard, powerful notes. It's true. They are a loud band.
Encell, Ryan Call (bass guitar/vocals) and Patrick Stutzman (drums) started the band during their high school years, back in 2011. As one of the younger groups to play Fourth Friday, their sound and skill were not limited by their age. Focusing on their instruments, the band sang less and played more, shaking the room with adrenalized guitar solos and jolting drum beats. As Encell unleashed each note, his face remained focused but not strained.
Although they appeared to play with ease, their intensity never faltered. "So this is why they call it the Sweatshop," they commented as beads of perspiration rolled down their faces. Their set marched on and the room steadily filled as heads nodded, mirroring the beat of the music.
---
More photos of Benson Fourth Friday by Randy Edwards
---