by Justin Senkbile
Since some of the earliest public film screenings, music and the moving image have been an inseparable pair. And one could argue that the two arts had their purest marriage during the silent era — that relatively short stretch of years before the movies could talk.
"
Silents in Concert
," the new series starting Friday at
Film Streams
, gives us a glimpse of what everyday moviegoing was like until roughly 1929, where musical accompaniment was often performed live during the film. With the exception of the Alloy Orchestra's performance earlier this month, which technically opened the series, Film Streams will present five films with five original scores written and performed live by a varied bunch of mostly local musicians.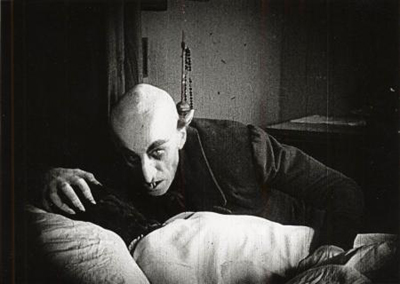 "It was kind of an organic process, and generally varied with each of the artists," says Film Streams founder/director Rachel Jacobson of how the series began and the films were chosen. "I've mentioned the possibility to most musicians I know and admire since long before this building existed."
That's probably why the first live music/silent film pairing at Film Streams actually happened back in 2008, just about a year after the place opened, when Todd Fink (The Faint, Depressed Buttons), Orenda Fink (Azure Ray, O+S) and Ben Brodin (Before the Toast and Tea), assembled under the name of Others, performed their score for The Cabinet of Dr. Caligari. For this series, Others is returning to accompany F.W. Murnau's legendary Nosferatu, from 1922 (the Friday, Oct. 21 performance is sold out).
Brodin will actually take part in the the series twice, as he'll also accompany Ryan Fox (The Good Life, Our Fox) and Jake Bellows (Neva Dinova) as they perform their score for 1926's The Adventures of Prince Achmed Thursday, Nov. 10. The oldest surviving animated feature film, Achmed is a haunting Arabian Nights adaptation that feels years ahead of its time.
New York musician Matteah Baim chose to score The Endless Summer (Thursday, Dec. 1), Bruce Brown's playful, colorful surfing documentary, and the only sound film of the bunch.
"For Matteah, it ultimately came down to the style of music she was interested in doing: surf music" Jacobson says. "She and I both love The Endless Summer, and though it's not actually silent, we agreed that the visuals were the most important aspect, and that turning down the narration might actually enhance the experience."
Tilly and the Wall's Nick White (along with bandmate Derek Pressnall and other as-yet-unnamed musicians), will perform his score for People on Sunday (Tuesday, Dec. 6), a 1930 collaboration between Robert Siodmak, Edgar G. Ulmer and Billy Wilder. A fascinating look at Berlin shortly before Hitler came to power, People is also interesting in that Siodmak, Ulmer and Wilder would all find their success later on, in Hollywood, after fleeing the the rise of Nazism.
"When I approached Jim Boston, who practices ragtime piano on the antique Steinway that he donated to us, I immediately suggested a Buster Keaton film," Jacobson says. What she and Boston ended up with was 1926's Civil War comedy The General, one of Keaton's best and most famous films. And it's hard to imagine a better fit for a musician like Boston, who is a frequent competitor in the annual World Championship Old-Time Piano Playing Contest. Keaton's film with Boston's score will close out the series Thursday Dec. 15.
"All of them had to commit to a film by August in order to make the Fall calendar," Jacobson says. "I know some of them are still working, and parts will be improvised on the spot." She also notes that Film Streams staff will be hearing the scores for the first time right along with the audience.
"There are a few more local and national musicians I've been talking with about playing live to films in the future, so this definitely won't be the last time we do this," she says.
The "Silents in Concert" performances take place on five nights between Friday, Oct. 21 and Thursday Dec. 15 at Film Streams, 1340 Mike Fahey Street in Omaha. Visit filmstreams.org for showtimes and ticket information.