Don't get lost in the jungle tonight at the Sandbox with three bands and four DJs.
by Jordan Minnick
It wasn't too long ago when young Omaha musician Keith Rodger
had his band's equipment robbed
from the
Lightning Bug
members' house. The situation was revisited recently when he had his laptop stolen in New York months ago. As a DJ with
loom
and
Conchance
, he was out of his all-inclusive beat box for shows and, outside of his sets, he was out of a way to work on music.
Rodger and some musician buddies decided to organize a fundraiser show to help alleviate the loss. But when the Japan earthquake and tsunami tragedy happened, he had a much better idea for the show.
"We decided Japan would be the greatest place to send [funds] to at this moment," he says. "We feel like they need a lot of help. You can never have too many benefit shows for something like this. If it were my choice, I'd play a show with the same lineup every week until we're absolutely tired of it. They need everything right now."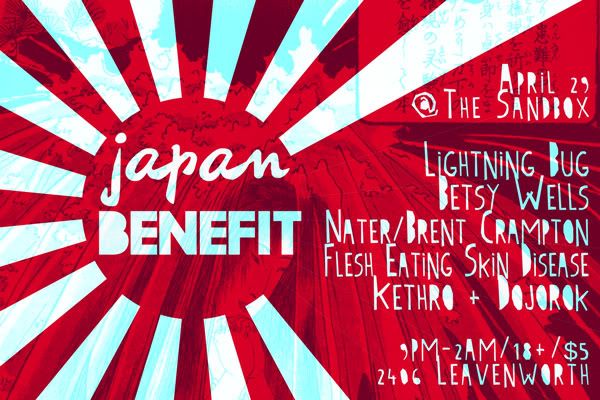 Rodger says there will be continuous music from show start to finish, with three bands and two DJ sets. Bands include Lightning Bug, along with
Betsy Wells
and
Flesh Eating Skin Disease
. Rodger will then hit the DJ booth as Kethro for a tag team set with
Dojorok
, he says. Our own
DJDD
er Brent Crampton will also put on a set with DJ Nater.
Lightning Bug video by Ingrained, filmed when the band opened Cursive's Domestica show this past February.
He's hoping his partner set will excite the crowd with an unexpected jungle-genre mix. In a quick lesson of the DJ genre, he tells me that jungle originates from bass and drum which comes from the '90s U.K. DJ scenes. It's fast, aggressive and tense, he says, with 160 beats per minute. Put an MC over it, and you've got jungle.
"It's something I feel like a lot of cats could enjoy listening to," he says, considering that many experimental electronic artists today either made drum and bass or grew up listening to it.
While jungle music sparked Rodger's DJ passion, it's something he's only experimented before live at house show. He'll be pulling out the tracks he grew up listening to, he says, while Dojorok (Juan Chaparro) spins and scratches vinyl.
The two wrote their set as a piece with planned routines, he says, but will improvise with effects, including guitar pedals.
Chaparro, "who is "always in the lab, cranking out ideas," has been producing for a long time, Rodger says, usually just throwing up material online on
his SoundCloud
. But this year, Chaparro hopes to produce a physical EP.
Listen to a three-minute sampler of Dojorok's EP
"You could almost say that it could already be done, but he's always going back and re-editing. He's always making additions and finding new sounds," Rodger says. "That man deserves a lot of respect for his music. I don't see him get enough light in the world of electronic in Omaha."