by Katie Fennelly
You could say David Codr knows his way around the music industry.
The Omaha native has helped put on more than 1,000 concerts and has experience in concert promotion, booking, venue management, band management and marketing.
He's also the creator of Musicpage.com, a website dedicated to connecting bands, venues and behind-the-scenes players that make concerts possible. To celebrate the website's first year, Codr is holding a trio of what he calls "Artist Development Workshops." These workshops are open to anyone in the music industry looking to get an inside perspective of how the industry works.
The free workshops will focus on guerilla promotion and marketing:
Monday, May 14 at 6 p.m. — Dietze Music, 13015 W. Center Road, Omaha

Tuesday, May 15 at 6 p.m. — Make Believe Recording Studio, 805 Hickory St., Omaha

Thursday, May 17th at 6 p.m. — Dietze Music, 5555 S. 48th St., Lincoln
Codr took some time to talk with Hear Nebraska about Musicpage.com's success and what these workshops can do for local bands:
Hear Nebraska: What's your goal of doing these workshops?
David Codr: Independent artists, the baby bands going from playing locally to regional tours, the advice that's out there isn't always for them. When Bruce Springsteen talked at SXSW, he couldn't give realistic advice to these musicians — it's not his fault, with his success, he's just so far away from independent artists. I really give artists concrete things to do that will immediately impact their careers.
HN: How have you used guerilla marketing in your career?
DC: When I was out in California, one of the bands I managed in Santa Barbara was playing an outdoor show in Lake Tahoe. A guy came up to me just gushing about the band and wanted to book them. He gave me his number, and I called him for two months. He never returned my calls.
It wasn't until I got hold of a waitress there who told me the guy liked to talk about bookings over lunch. And I wasn't about to drive for hours to eat lunch with this guy, so I called Pizza Hut, and sent them a letter and a cassette from the band [to deliver to the venue]. I get a call from the guy, and he says, "I'm eating pepperoni pizza and listening to your band. Let's book the show."
That was maybe 15 years ago, but it was so unique, the guy still remembers it.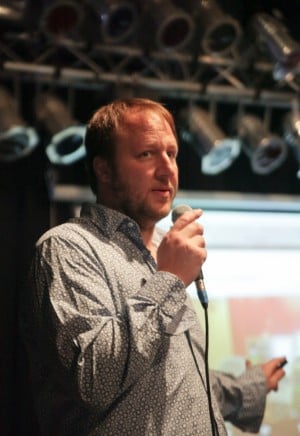 HN: So it's all about making yourself stand out.
DC: Exactly. Every band thinks they are a great band, but bands will always say the same things on the phone: "We'll promote ourselves, we'll bring a lot of people."
You have to look at it from the venue's perspective. A venue that has three shows a week has more than 150 shows a year, so think around 300 slots to fill for bands. But of those, most of the bands are people they've already booked or have a guaranteed draw. After that, most venues only have 20 to 40 slots to fill for the year. If there are hundreds of people competing for those slots, generic phone calls and emails don't help you stand out.
And if you are a venue, the quality of the music isn't nearly as important as attendance. Even if you are the best band they've heard, if you don't draw, they're not going to book you again.
HN: So the fan base is key.
DC: It's all about the fan base. And building relationships is key to building a fan base, and it's key to booking shows. A lot of bands think they are above putting their phone number on a website. Bands on Musicpage are required to have a working phone number.
HN: How does Musicpage.com benefit bands?
DC: Our website has the most in-depth profiles in the music industry. If bands are looking to go to the next town over, they need to find a place to start. Bands know what they are looking for — a venue, a sound guy, a promoter — they just don't know the names. Musicpage gives musicians options. All you have to do is click on a category, and you are taken to a page that lists 50 promoters in the state. We are providing a tool that empowers musicians.
HN: How many people are on Musicpage.com?
DC: We're finishing up our first year and we are just at under 20,000 profiles. It's just a drop in the bucket, though. For the music industry, that's a good number. These are people that are hard to find to begin with, but as we get the word out even more, excitement grows. We are being used nationwide, and even by people in places like Israel and Scandinavia.
HN: Who will find these events useful?
DC: I think it's good for music pros, venues and promoters, as well as bands, which are still the core audience. Or, if you are a promoter, booking agent or publicist looking to generate a bigger buzz.
I used to tailor them to artists, but I go based off of who's in the crowd.
I've never used any notes for these, It's always just a shoot from the hip setting. I do about one hour worth of workshop, and then take time to answer questions. And after the event, we usually go somewhere to hang out and talk more afterward.
HN: You've been in the industry for more than 20 years. With the Internet, how has it changed?
DC: While Facebook is definitely a powerful tool, a lot of bands have forgotten about the art of promotion. It can be hard to stand out online. Facebook definitely has its use, but it makes it difficult for bands to reach out and find their fans.
Everything you do as a band should fall into one of two groups: building fans and writing more material. More fans means more merch, bigger venues, more plays on radio stations. Fans are the silver bullet. Liking on Facebook doesn't give bands info about fans. In a way, it's a fantasy fan base.
You need to connect. If you have a fan's email, you're in. Fans want to know about the band. Bands should use a newsletter to make their fans feel like they are backstage with the band, let the fans get a slice of what it would like to be in the band. Again, it's all about building relationships. To get people to come out to support you live, you need to give them a good reason to come.
HN: All right, you have one final chance to convince people to come out to your workshops. Give me your best pitch.
DC: If you're not as successful as you'd like to be, or have as many fans as you want, or have as many CDs, if you aren't playing the shows you want to play, you need to come to a workshop. You'll walk out of the workshops with tangible ways to make success happen right away, all at little or no cost to you. It's all about teaching musicians how to harness power and information and work smarter.
Katie Fennelly is a Hear Nebraska intern. She is anti-Oxford comma but pro-bagels. Reach her at katief@hearnebraska.org.