[Editor's note: This story previews Desaparecidos' performance at Maha Music Festival, Aug. 11. Find more info here.]
by Steven Ashford
After a 10 year gap of sudden dormancy, Desaparecidos is finally answering its call to arms.
A severe misjudgement in social equality within America has compelled lead singer Conor Oberst to take action. The indie-folk-rock star's ability to communicate his frustration about contentious issues such as immigration and income inequalities are best suited, after all, for a higher decibel and a stronger deliverance.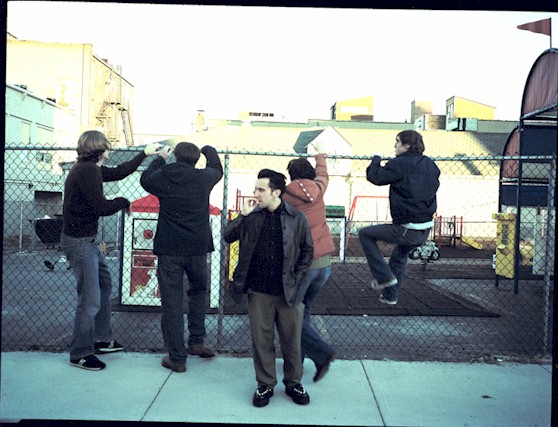 Back in early 2002 and in the infantile stages of a new millennium the short-lived Omaha rock outfit Desaparecidos — fronted by Oberst and fueled by Denver Dalley (guitar), Landon Hedges (bass), Ian McElroy (keyboards) and Matt Baum (drums) — released their debut album, Read Music/Speak Spanish. On that record, the centripetal force that generated around the focal point of Omaha was its hopeless adaptation to modern suburban sprawl and mass consumerism.
With a relatively small scope, the first wave of Desaparecidos reflected adolescent determination with an idea and little musical direction to take a shot in the dark and unwittingly achieve a "Hole in One."
"When we first started playing, it was just a fun chance to get on stage and make a bunch of noise and smash stuff," says drummer Matt Baum in a phone interview.
When the band split in 2002, Dalley remained optimistic about a comeback at some future point.
"When we went our separate ways we left the idea of getting back together open," says Dalley, on a subsequent phone call after just arriving in Omaha. "We spit because the timing wasn't right and we were getting away from the most important thing, which was to play music and have fun."
Fast forward to the present day and our nation is teetering on the cusp of a prepubescent 21st century that has virtually remained stalled in political continuity. As Desaparecidos sits down for the first time in nearly a decade to write material, its new direction remains close to its rooted ideals.
"We haven't changed much in 'theme' at all, and maybe that's because the United States hasn't changed much since then," Baum says. "I guess there have been updates with the news cycle, but it's still a lot of 'The radio sucks. Why are there so many poor people? And why are you such a racist?' kind of thing going on."
In the summer of 2010, Desaparecidos regrouped to play the a one-off show, Omaha's Concert for Equality, to raise money for a SB1070 copy-cat law passed in Fremont, Neb., that essential made it illegal for undocumented immigrants to live and work in the city. Baum says he figured that would be the only time the band would get together, until a year or so ago.
"I was talking with Ian [McElroy] and he told me that I needed to give Conor a call because he had some ideas that wouldn't necessarily work for Bright Eyes or The Mystic Valley Band," Baum says. "And in my eyes, I assumed he was talking about rock 'n' roll."
A couple weeks later, Baum received a phone call from Oberst saying that he was looking to write new songs with the Desaparecidos crew.
"It seemed like he was mad with shit that was going on, namely with immigration," Baum says. "But not just immigration — fair taxation and stuff like that — and he needed to write some angry songs that couldn't be done with Bright eyes or MVB, so we were sort of reborn out of necessity, again."
With two new tracks released this week, "Backsell" and "MariKKKopa," listeners get a first glimpse into the content and the driving force behind tackling specific current affairs.
"With songs like 'Backsell,' there were obvious things that we wanted to call out and we talked about the intention going into it," Dalley says. "And on the surface, they are different issues on a bigger scope, but they are issues that also lie in our backyard."
The song directly addresses Maricopa County Sheriff Joe Arpaio, who has waged a veritable war against undocumented immigrants, but it also does local justice by relating the passing of Fremont's ordinance. Making national issues resonate close to home is something the band's debut album did well.
With the time elapsed from the Read/Speak days, Baum feels the band's members have matured, and have even become "good" musicians. Or, they at least fake it better, he says.
"Before playing the Concert for Equality we were terrified," Baum says. "Then we get up there and it's like, 'Hey! We can play our instruments now!' So after that I went home and sat down with the album and was like, 'Alright, I'm not gonna play it like that anymore.'"
The 10-year break required a slight brushing up on the original material.
"We rewrote bits and pieces of it because we weren't very good musicians back in the day," Baum says. "Now I feel like we're executing the ideas that we had back then better and using that same mindset that we had to write newer stuff that I feel is more mature, but still in the same spirits."
By Desaparecidos revisiting old material to polish the pulpit, it makes you wonder if those same songs maintained their relevance.
"I feel like they might make a little more sense now after some fine tuning, but they still totally apply and the message is completely there," Baum says. "It's about urban sprawl, about feeling awkward and out of place, about doubting what you're told is true, and I believe all those themes still hold up."
"Shockingly, these songs still feel the same," Dalley says. "I mean, we're older and 'allegedly' wiser, but revisiting these songs felt like we were 20 years old again, back in the basement. Even though the music is serious and controversial, behind that we're still joking and cracking each other up."
It seems that both fans and the media were excited to witness the unveiling of Desa's return for varying reasons.
"I think if anything — and this is me just being cynical — it's that people just want to see Conor rock, and they wonder if the kid can still do it," Baum says.
Those who saw the Concert for Equality or the "secret" show at Slowdown in April, it's clear he can.
With seven confirmed tour dates — including Maha Music Festival Aug. 11 — and with new songs underway, this return is obviously for real. But don't expect the band to tour the world a la Bright Eyes.
"We all have real lives and other things going on, so the idea of doing a 10-day tour followed by a big festival made sense," Baum says. "Then we can go home, maybe work on more material and try another 10- or 15-day tour. But we're not going to do it unless it makes sense."
Regardless of national press or future tours, the return is about something much more pure for Baum.
"When we were younger, it was just an insane time and it sort of feels like a dream being in the practice room again and playing with these guys because we were so far removed," he says. "Being able to be on the road with my friends that I've known for a really long time is a very special feeling. It's something I haven't been a part of in years, and I sincerely treasure it."
* Photo credit, in order: Patrick Mac Manus; Bill Sitzmann; Daniel Thompson III
Steven is a Hear Nebraska contributor. "Americans are sssssllllloooowwww to hostility." -Winston Churchill. Reach him at stevena@hearnebraska.org.