photos by Collin Lewis Geldmeier
[Editor's note: Amy Schmidt's release show for Little Gears will be Saturday at 8 p.m. at Indigo Bridge Books, 701 P St., Ste. 102 in Lincoln. Crystal Davy and the Dear Herman are opening.]
Amy Schmidt is heading out on another European tour soon to promote a record she wrote about Nebraska and recorded in Nashville. Unlike previous records, the Lincolnite wrote all the tracks on Little Gears in her home state, and from the lyrics, it seems her relationship with Nebraska is a complicated one.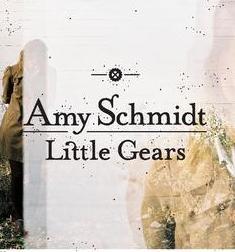 In "Honeybee," she sings about the places she hasn't visited, saying, "I am a honeybee, I always come home / Never is the longest word I know when there's no hope."
In "Parking Space," she laments how all her friends "are long gone, off to the coasts … but I don't want to be the same." At the same time, she says in "Miles Between" that "it's no wonder to me that this town has grown boring / I've got nothing but time and ghost stories."
Schmidt's music has always been introspective, but this record is decidedly more pensive in tone and much softer in presentation than last summer's Landscapes EP.
Take "Overanalyze," for example: "I can't help but thinking you'll be leaving any day / I can't keep believing in the good in everything."
Or this plea from "Weighs Down": "What am I after exactly? / Please don't ask me, I don't know."
Her voice has a tremulous quality that lends earnestness and sincerity, as well as a vulnerability that draws you in. But Schmidt's strengths are her songwriting skills and guitar/banjo playing, and the latter is muted on this record. Little Gears lacks the spark and vitality of some of her previous material.
At the same time, it's a lovely record for winter — like Sea Wolf's album Leaves in the River or older Great Lake Swimmers — melancholy and understated.
Schmidt originally had studio time booked in Nashville, but a last-minute cancellation found her recording the album in a Tennessee friend's living room. I wonder how the album might have turned out differently with that studio time. Perhaps it would have captured a richer, fuller sound.
Schmidt told me the record is about "small occurrences having a bigger purpose. It's about feeling like you're small because you can't see outside of yourself."
There are several individual moments, several small occurrences, on this album that stand out; there are several songs I played on repeat (like "Hill Country" and "Overanalyze"), but others I invariably passed over. Little Gears is the kind of record I'd want as an actual record, on vinyl, that I could throw on when the snow starts to fall and I'm nestled on the couch with a book or project and a mug of hot chocolate: where I can pause while the tracks I enjoy most are playing, and allow the others to fade quietly in the background.
Hilary Stohs-Krause is in Indianapolis this weekend visiting friends and catching up on awesome Indy female music-makers. She gets her Nebraska local music fix through HN and as a cocktail waitress at Duffy's. For more on Nebraska women making music, tune into the "X-Rated: Women in Music" radio show every Thursday from 1:05 to 3 p.m. CST at 89.3 FM KZUM in Lincoln or streaming live at kzum.org. Find "X-Rated" on Facebook at facebook.com/xmusicnebraska.