by John Wenz
The most masturbatory exercise music writers do is curate the omnipresent list. We like to make lists. We like to speak with authority. We like to write out the reasons why we like what we like and hate what we hate and curate the best possible taste. It's the shape and form that music writing has taken. And hey, it's not like I'm not guilty or don't love a good listicle.
But sometimes we agonize so much and enjoy so little. The three items we list are not in any way authoritative, even in our heads. Make a list today of your Top 3 albums of last year. Then check back tomorrow and you'll disagree with it. It's great that, by day, the critic loves Bon Iver's "Holocene" and is ready to hail it as the song of the year, but at the end of the night we're all drunk and listening to Huey Lewis alone in our rooms with our pants resting around our ankles because of the great Sisyphean effort required to kick them off that last few inches. In other words, it doesn't matter all that much at all.
Also, you (OK, maybe I) haven't really listened to Bon Iver and don't know how to pronounce it and dismissed it all in the first place due to the all-consuming hype machine surrounding it. But then you figured out you missed some stuff you genuinely liked (Cults' "Go Outside") because you were ignoring every stupid music link on Tumblr that wasn't the sad song you obsessively tracked the tags to hear. And for god sakes, I'm sorry, it was "Man in the Mirror" by Michael Jackson, OK?
So anyway, here you are a huddled mess, realizing your favorite album of the year was released four years ago and you missed the boat because you're perpetually behind the times. (That record is Woke Myself Up by Julie Doiron.)
So here's a list that's both completely scientific and completely arbitrary, somewhat obsessively re-edited but still not authoratative in the least. It also opts for songs as singles and Beyoncé rightfully wins, earning her place on the same general year-end list as Fucked Up. So, have fun.
Albums of the Year (national)
1. David Comes to Life by Fucked Up
Melodic hardcore punk band from Canada takes on … rock opera? It seems like a bizarre fit, and on some level it is. But Fucked Up's talent turns this album of love found and lost in anarchist young people into one of the catchiest and hardest albums of the year.
2. Wild Flag by Wild Flag
Rock supergroups are typically affairs of mediocrity, but Wild Flag rose above those trappings, taking Mary Timony from Helium, Rebecca Cole of The Minders and Janet Weiss and Carrie Brownstein from Sleater-Kinney and creating one of the most interesting bands of the year. The group plays alterna-punk filtered through the lens of the whole breadth of the 1960s — be it garage rock or psychedelia — and puts out one of the greatest albums to which to highkick. And the pairing alone gave hope for us to find our generation's Fugazi, as critic Joe Gross was
quick to point out
.
3. Strange Mercy by St. Vincent
Beneath her music's overt intricacy and strong melodies, Annie Clark has been hiding a lot of darkness and lurking aggression. Nowhere is that more apparent than in
Strange Mercy
, her third album. The record brings together strong pop-sensibilities, dark lyrics and an undercurrent of post-punk that's not to be missed.
Albums of the Year (local)
1. The Year of Getting By by Kill County
It may have come out the gates in 2010, but
The Year of Getting By
grew in 2011, inhabiting the dark spaces of the good life with rootsy, gutsy country-folk. Phenomenal meditations best served with a side of whiskey and some dim lights.
2. All Young Girls are Machine Guns by All Young Girls are Machine Guns
The uke is typically a YouTube-friendly instrument without a wide breadth of respect musically. But Rebecca Lowry has changed that mindset, and opted for heartfelt singer songwriter material over the bad R. Kelly cover. In the process, she created one of the state's most interesting acts to watch.
3. O Sad And Future Human by Answer Team
This moody instrumental post-rock band creates some of the best soundscapes, and fills a hole in the area scene left by the demise of Mr. 1986 and Fromanhole.
Songs of the Year (national)
1. "Countdown" by Beyoncé
This is, hands down, the most infectious, catchy song of the year. If you didn't have it in your head before, you should now. In addition, the video is fantastic.
2. "Sleazy 2.0" by Ke$ha featuring Andre 3000, Lil Wayne, Wiz Khalifa and T.I.
No I am not "joking" with this list. This song is a great "next levelling" after the original remix. Ke$ha's whole schtick may wear thin on a lot of music listeners, but underneath the whole "I vomit whiskey-flavored glitter" persona, there is some genuine songcraft.
3. "Super Bass" by Nicki Minaj
People who ignore pop music entirely need to get over themselves, because some of the most clever songs can be found on the pop airwaves.
Songs of the Year (local)
1. "High Five (My Friends Who Are Alive)" by Talking Mountain
Nebraska weirdo-pop wunderkinds hit us with another wonderfully catchy song.
2. "Prairie Kids" by Meaner Pencil
Lenna Pierce's haunting sea shanties provide a strange and welcome addition to Lincoln's varied scene.
3. "Dead Girls" by Millions of Boys
One listen and it's in your head. Forever.
Album Art of the Year
1. Hear Nebraska: Vol. 1 designed by Doe Eyed (no really, not kissing ass.)
2. Mammal by Altar of Plagues
3. Several Shades of Why by J. Mascis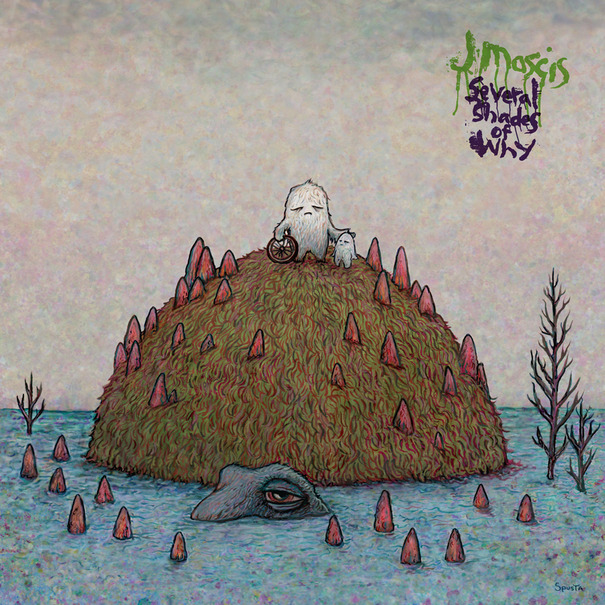 Best New Bands (national)
1. Wild Flag!
2. White Lung
Angry bursts of female-fronted punk that will have you committing arson in no time.
3. Off!
As one friend put it, "The best Circle Jerks album in years."
Best New Bands (regional)
1. Irkutsk
It's nice to see Tim Scahill of Rent Money Big back in action, and lead singer Courtney Morrow brings loud and snotty vocals to the group's hardcore-inflected sound.
2. Meaner Pencil
What freak folk should be: cello-based sea shanties of love and loss and intimate tales from the no coast.
3. All Young Girls Are Machine Guns
Wonderfully emotive acoustic uke music that tugs at the heartstrings.
Shows of the Year
I left Lincoln in June (boo!), so my list is a little sparse, but here goes:
1. O Death! at the Bourbon
Folk-country-metal type group with a strange, haunting sound.
2. Asobi Seksu at the Bourbon
Indescribably loud, completely joyous noise-pop.
3. The Amalgamators at the Zoo Bar during Lincoln Invasion
Everything country music should be.
Honorable mention: S.L.F.M., Meaner Pencil, Hanna Kornbluh at the Gloworm house.
Music Video of the Year
1. "Countdown" by Beyoncé
When the dust of the decades clears, I feel that Beyoncé will be our most-memorable popstar, and videos like "Countdown" will be on critical lists of the art form.
2. "XI" by Machete Archive
3. "Romance" by Wild Flag!
I guess I'm just a mess for people in creepy masks doing hoodrat shit.
Best Nebraska Music Development (not HN)
1. I think that the interaction of downtown venues in Lincoln with a spirit of cooperation has been a site to behold. It's really created an atmosphere conducive to establishing Lincoln as a place to go for music.
2. Though not new, MAHA does an effective job at bringing in acts relevant to its audience, something a certain other music festival bungled completely.
3. I've been encouraged by independent bookers like Black Heart Booking (caveat: I knew Lucas Wright from high school), who bring DIY aesthetics, all-ages possibilities and something different than indie rock to the Omaha/Lincoln area. It's too bad DIY venues like Mad Ave. never quite made it.
John Wenz is a Hear Nebraska contributor based in Philadelphia. He thinks "Heart and Soul" is the most underrated Huey Lewis & the News single. He can be reached at johnwenz@hearnebraska.org.