By HN Staff
Hear Nebraska's interns tag-teamed the 2011 MAHA Music Festival. Read their reviews below, and tell us what you thought about the performances in the comments section.
The Big Deep by Jordan Minnick
Roots rock band
The Big Deep
kicked off this year's Maha — a feat in and of itself. Of the 58 bands that played the OEAA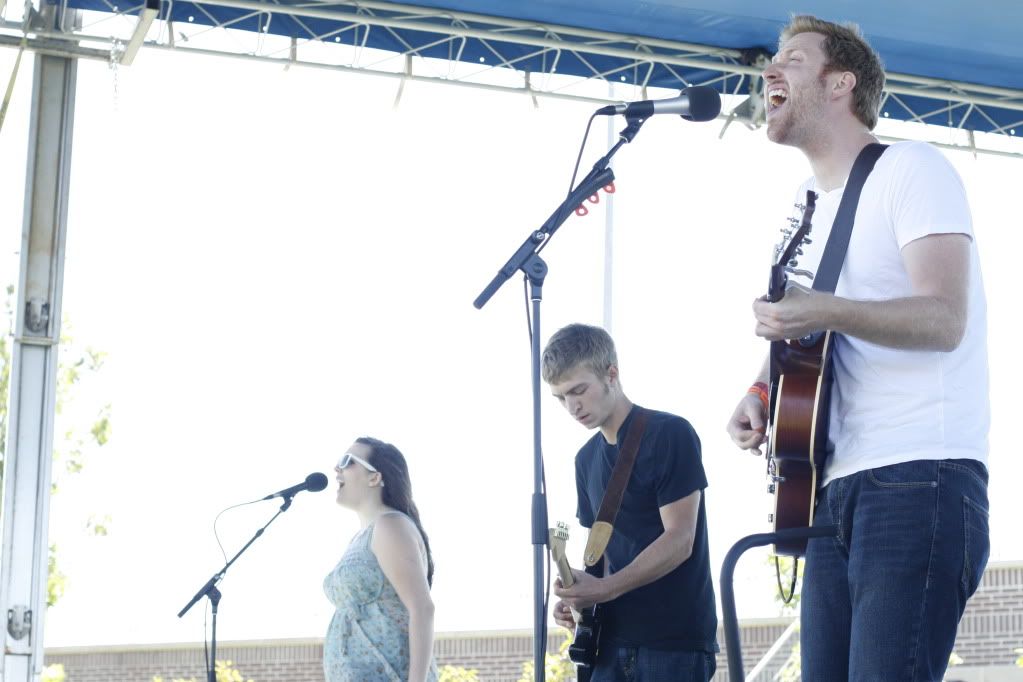 summer showcase in July, they received the most audience votes, securing their Maha opening spot.
But that's about where the feat stops. Because how many music-loving patrons are willing to make a set at noon on a Saturday, after God knows what they were doing the night before? Apparently, only a fraction. And that fraction was there to stake out their prime spots on the grass, asses glued to their fold-out chairs.
It probably wasn't the romanticized MAHA the scruffy faced fivesome was hoping for, but hey, 57 others would've killed for their spot. They surely didn't let it get them down as they dove into their six-song set. By the second song they brought up songstress Tara Vaughan, who was privileged to be the only female to take stage all day. After hopping off and
then back on stage for the final song, I'm wondering, Why isn't she singing backing vocals on every song? The male/female harmonies with frontman Nate Gasaway glided so well together and proved ultra-fitting for the band's country-Americana sound.
Yet, their sound doesn't seem to halt at that. Because lead guitarist Ryan Tantillo's play ranges from twang to distortion-hinted rock. It was definitely something to moderately move to, which you'd think most people would prefer. You're not making a dancing fool of yourself, but you can groove a little bit. Kind of the perfect type of music to start a festival day with. But those asses glued to their chairs just weren't having it. I was happy to see keys player Tregan Albers boldly descend the stage with tambourine in hand, jangling it over his head like a crazy man — a final attempt to really have fun with their set. Lord knows they're probably more successful playing a bar.
The Envy Corps by Jordan Minnick
The Envy Corps four-piece out of Des Moines also struggled with a bit of a lackluster crowd for the 1 p.m. set. It was clear, however, that the string of younger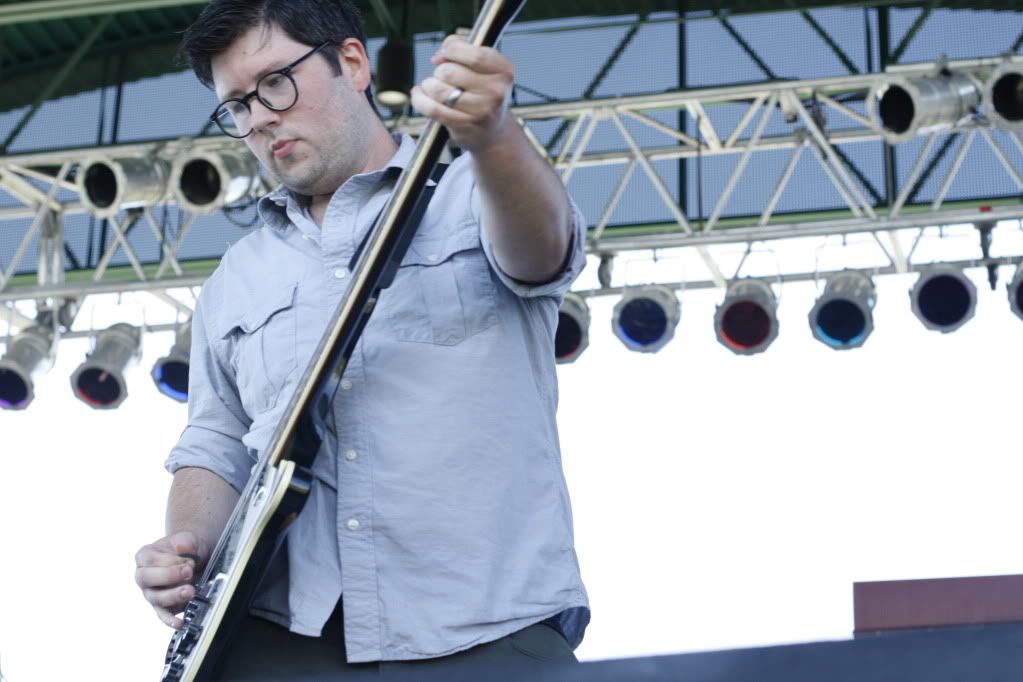 MAHA-goers standing against the mainstage barrier had their sights set on the moderately slow-strung, shoegazey indie rockers. This of course wasn't nearly the band's first or last show here in Nebraska, so it was nice to see the presence of an Envy Corps fanbase.
Lead man Luke Pettipoole delicately laid out vocal parts that carried through the sparsely populated park. The set started with a slower pace but turn-up the sixth song in with a new track "Palace on Stilts." Off-beat guitar picks fostered a bit of a sweet groove laced with "Oh, oh, oh," harmonies. Everything sounded great, but a stage energy lacked. They set themselves up for that by being on a huge stage and, for the most part, standing stationary at their spots. By the time they had loosened up, their set was almost done, leaving the audience hungry.
The Machete Archive by Bryce Wergin
I stepped over sunbathing hipsters as quickly and carefully as I could to make it to the local stage as The Machete Archive opened their MAHA set. The band wasted no time getting right into it, as
their almost unrealistically clean lead-guitar-driven songs started moving the feet of the crowd right up by the stage, which consisted of 50 or so Machete fans.
Bassist Saber Blazek's dance moves, which have become one of the most recognizable aspects of the band's live set, began at the first song and didn't subside until after the last note of the set was played, and the dude wasn't even phased by the relentless summer sun, which ended up reddening the complexions of many of the festival's pastier patrons. "We're the Machete Archive and we're from LINCOLN, NEBRASKA," Blazek said between songs, sure to emphasize the band's hometown.
Ryan Thomas's guitar solos were clean and methodical as fans have come to expect, and they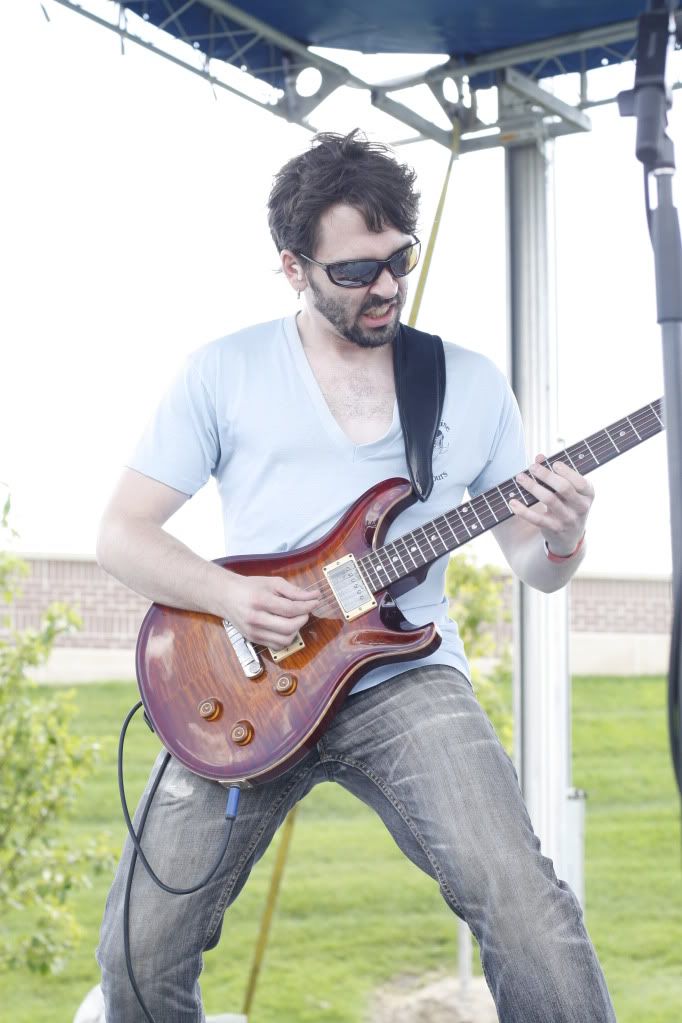 gave the songs such content and melody that the audience wasn't concerned with a lack of lyrics, which are very limited in Machete songs. Although the band's songs are almost completely instrumental, I believe their performance was one of the more memorable of the day thanks to the endless energy they put in to every single second of their set. It's easy to see how The Machete Archive have become so popular in Nebraska, and if you've never been to one of their shows I highly, highly recommend it.
The Reverend Horton Heat by Casey Welsch
"1I will sing to the Lord, for He has triumphed gloriously! The horse and its rider He has thrown into the sea! 2The Lord is my strength and song…"
-Exodus 15:1-2
Every reverend, every man of the cloth knows these verses, and the importance of singing praises unto the Lord. That is, almost every reverend, because it's not the Lord the Reverend Horton Heat is singing to.
It's Jimbo.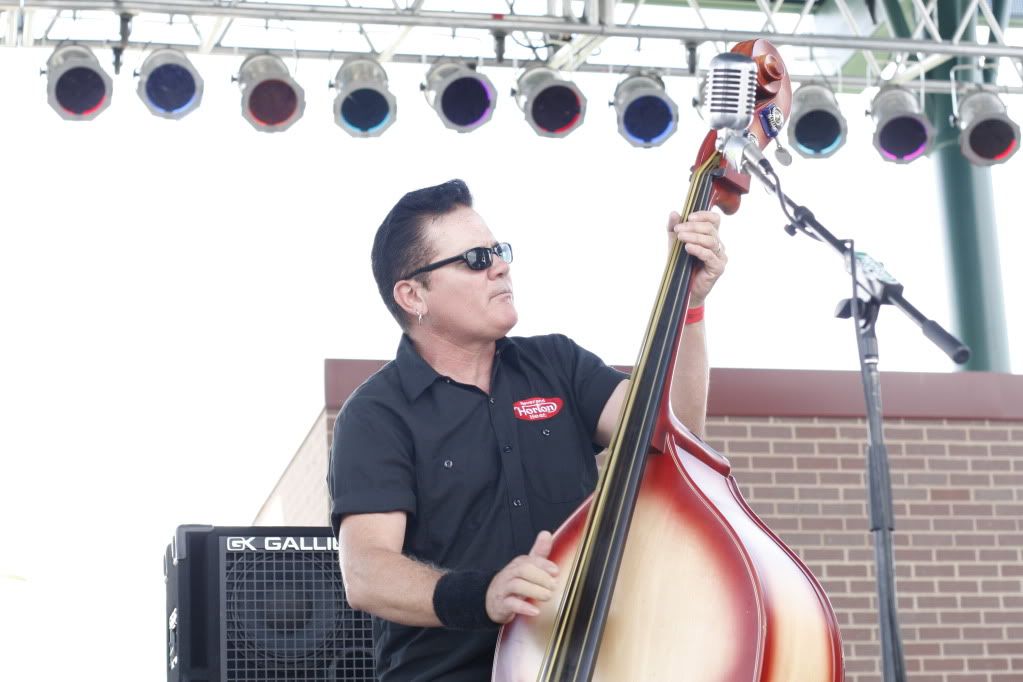 Jimbo is the fast-handed, high-jumping upright bass player of the legendary rockabilly band, The Reverend Horton Heat. He's the star of "The Jimbo Song," one of many the Reverend has made in the last 25 years.
The hardened and hard-rocking trio gave the young crowd a tour of their entire catalogue. They started with the first album and kept pulling the hoedown gems from each of their records. They skipped a lot in the middle because they only had 45 minutes, but the graying players looked like they could have rocked all day.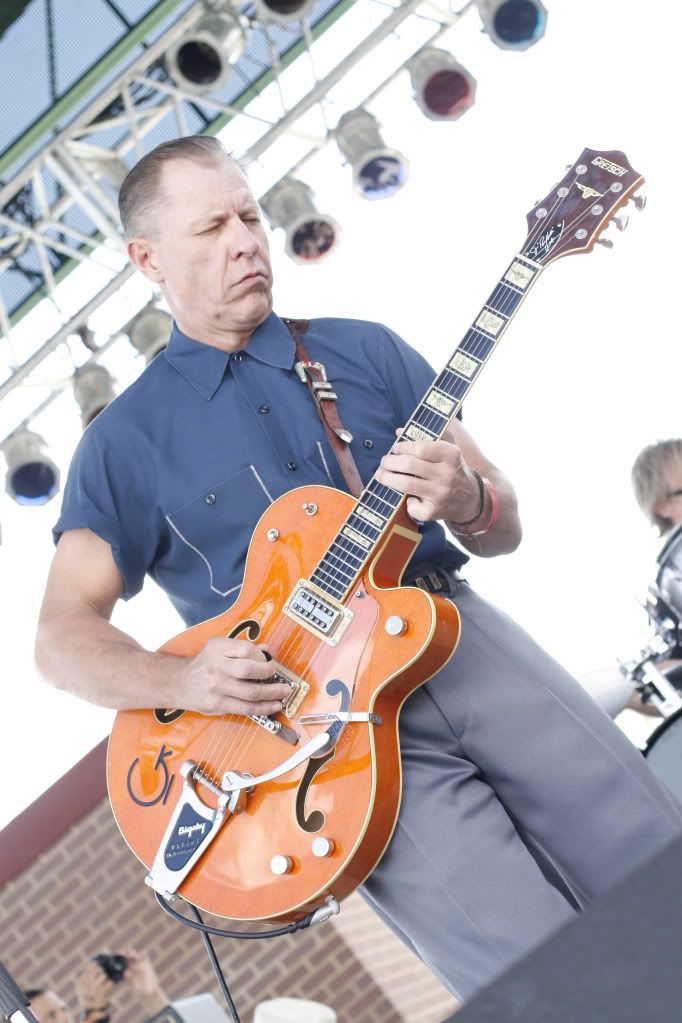 They played through their classics like "Martini Time," "The Devil's Chasin' Me" and "Cruisin' for a Bruisin'." The even threw in MAHA's only drum solo, which is good, because it's not a festival until someone plays a drum solo.
Bass stands, heavy drinking and the devil's own scowl permanently fixed on the Reverend himself, what more do you want from a rockabilly show?
Just remember two things. Don't take your baby to the liquor store, and don't every think "Folsom Prison Blues" can't be made to rock your face off.
The So-So Sailors by Michael Todd
Before they started their set, The So-So Sailors' Chris Machmuller looked into his new backup singer's eyes and held her face in a sort of "we're gonna rock this stage" way. And they did. To their benefit, the So-So Sailors added Megan Morgan (of Landing on the Moon and Little Brazil) and Ben Brodin (who also engineered their unreleased record). To their detriment, they may as well have welcomed an eighth member: the wind.
The band's complex song structures, thick textures and characteristic vocals were dampened only by the low noise of the wind passing over the mics. Bassist Brendan Greene-Walsh had to tuck his tie in his shirt, and Brodin spent a good deal of time lighting a cigarette. Machmuller broke out his own wind instrument – the saxophone he also played during Cursive's set – but his chops seemed a little underused. Another criticism could be the slightly muddy mix of keys with Machmuller, Brodin and Dan McCarthy all playing in a similar timbre and frequency.
All in all, despite the typical Nebraska weather (beautiful with a catch), The So-So Sailors put together a dynamic set that was well-received, though the crowd didn't do as Machmuller asked and "come and give us a smooch." Their loss.
J Mascis by Casey Welsch
I really only know one thing about J Mascis. He plays guitar, he plays it loud and he plays it well. The longtime frontman for Dinosaur Jr. can usually be heard ripping ungodly riffs on his electric with Lou Barlow in tow, but not at MAHA.
I didn't know what to expect from Mascis solo. He walked out with an acoustic guitar and started to
strum some folky sounding tunes, singing with his distinctively high, scratchy voice. It was nice, but it wasn't what I wanted from J Mascis.
Then, after a few songs, things got weird. His feet were obscured by a halo of amps and monitors, but something down there got kicked, and things got kicked into a higher gear. He started looping his acoustic parts, turning something on to make his acoustic wail like a Hendrix trip.
He moved seamlessly from acoustic to electric, looping and soloing and singing without rests. It wasn't the most interesting stage presence in the world, but he barely needed it. His sound was second to none. He played with enough volume and voracity to keep everyone's eyes turned toward him. He almost seemed to glow with an aura of noise. Or perhaps it was just his hair blowing in the wind.
No one can top Mascis's playing. And this was something different from the master. Solos that would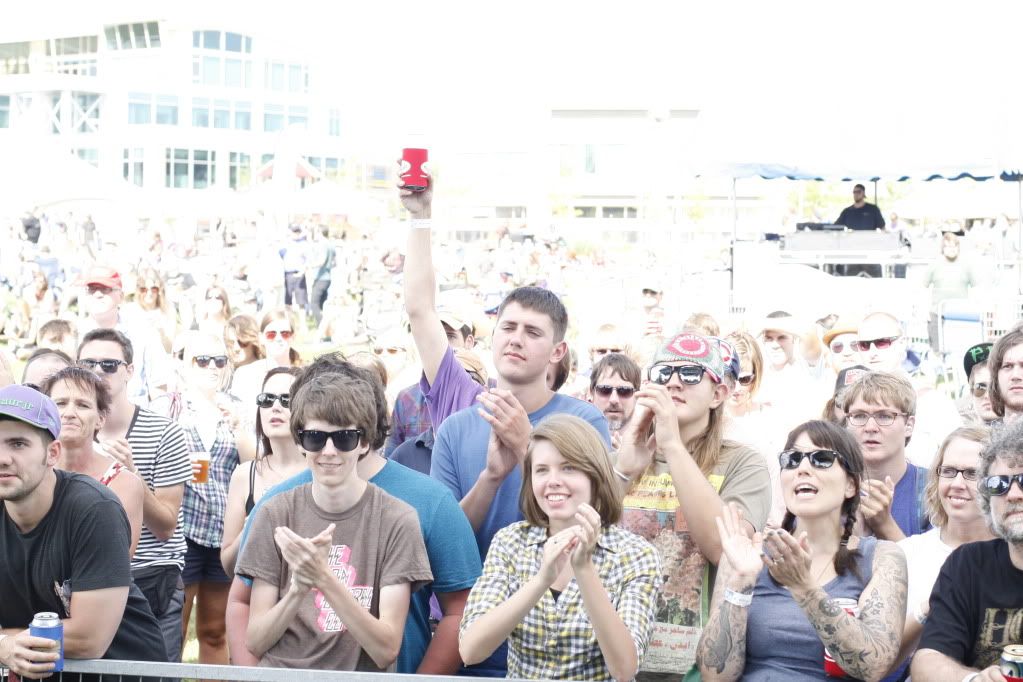 normally sound weapons grade were mellow and lilting, pleasant instead of assaulting. It was something different, something bright. Whatever it was, it was just right for MAHA.
Noah's Ark Was A Spaceship by Michael Todd
Noah's Ark Was A Spaceship is a well-oiled machine, and the crowd at MAHA responded in kind. As evidenced by the poll on our Facebook, they beat out the rest of the locals on the scale of rock. Why? Sheer confidence.
These guys had the edge of Machete, the melodies of The So-So Sailors, the coolness of Somasphere and, well, I didn't catch The Big Deep, but perhaps they did complete the set of Nebraska musician super attributes. This was my first time on the ark, and it did seem like two of every sort of music fan came to listen.
It's kind of a shame that we judge a band by its demeanor in the same manner we do by its music. What set Noah's Ark apart from, say, The So-So Sailors was the band's "we're going to charge through this set with all we've got" attitude, along with bassist John Svatos' headbanging and
guitarist/vocalist Andrew Gustafson's sweet sunglasses. Both bands have killer songs and killer performers, but there's just that confidence that puts one over the other. And so, here's to hubris: May it keep us listening to local music as long as the locals have it.
Cursive by Bryce Wergin
The Omaha crowd was particularly receptive to Tim Kasher as he walked onto the main stage at MAHA on Saturday. One of the heroes of the city's music scene, Kasher formed Cursive back in 1995. They've broken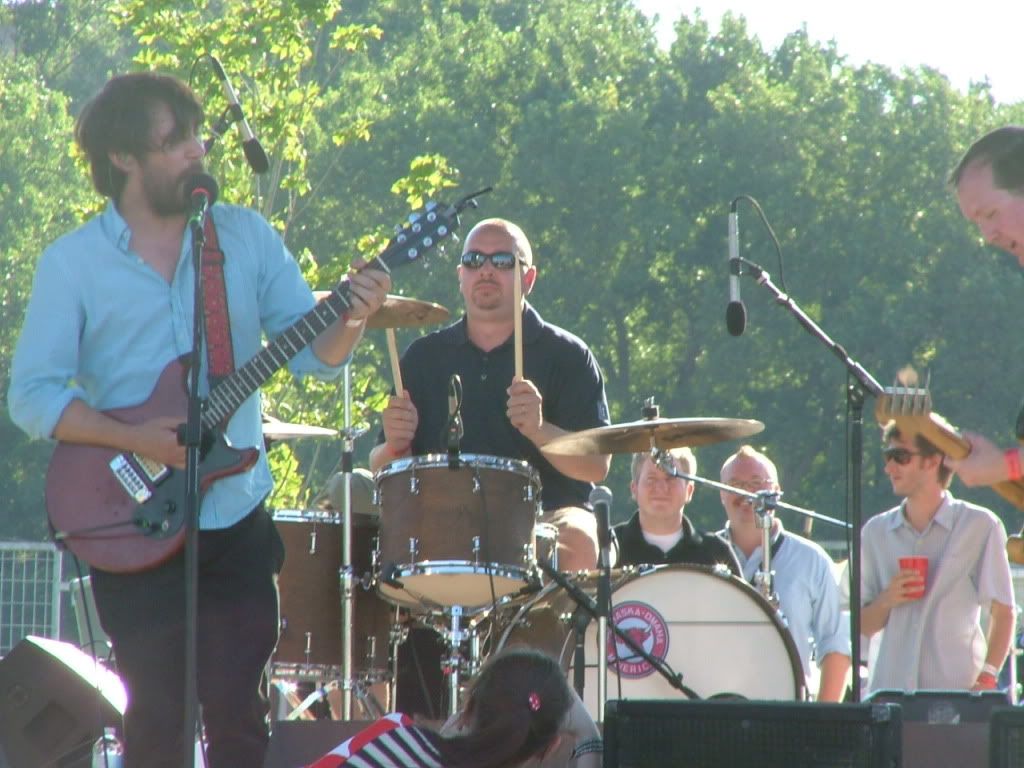 up, taken breaks from playing together and had lineup changes several times since then, but at MAHA, Clint Schnase, the drummer from the original lineup, played the set. Hundreds of fans, most of whom were likely in grade school at the time of Cursive's forming, crowded around the stage and rejoiced together at Kasher's announcements of, "This next song is older than dirt."
The band played songs from all across their catalogue for their hour-long set, and added more and more people to their performance as it went along. By the time they were wrapping up their set, a line of horn players that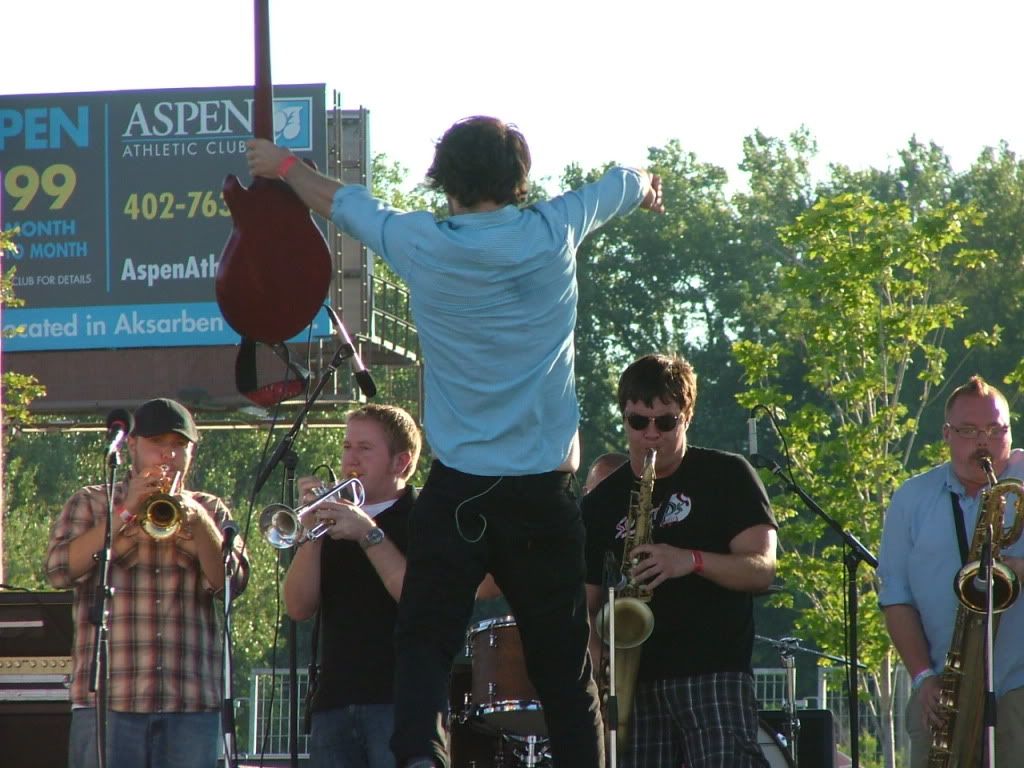 included trumpets, saxes and trombones stretched from one end of the stage to the other as Kasher lifted his guitar over his head for the end of the set. It was awesome to see three out of the four original members together on stage, and I'm sure the old-school Cursive fans were blown away by how elaborate and fun the band's set was with all of the extra people incorporated into their songs. It's easy to see how the band has built up such a strong following over the years, not just in Nebraska. Kasher commands the stage and keeps the audience focused on his soaring vocals and strong stage presence. His charisma was ever-present, even when he was commenting on the apartment buildings surrounding Aksarben Village. "Who the fuck lives up there?"
Somasphere by Casey Welsch
Four years ago, Somasphere was the first local band I ever saw. Three days ago at MAHA was the first time I'd ever seen them in the sunlight.
It was a thoroughly eye-opening experience. Normally, you can only see Somasphere if you come out late at night and cram yourself into a fake smoke-filled, laser-blasted venue in downtown Lincoln. It's a spectacle, for sure, and it sucks you in. When everyone is dancing and spinning their hula hoops and light balls, you become part of this living light show.
That's what happens normally. When you put Somasphere in the sun, though, you don't have that. There's not nearly the spectacle to get sucked into, and what you notice about the band then, is that they're really, really good musicians.
As the headliner for the local stage, Somasphere brought their A-game from Lincoln. They weren't
going to let anyone down, and they played like I've never seen them before. Even without the club setting, these four guys are natural entertainers. They know how to move a crowd in any setting, even the ones trying to dance up Mt. MAHA, the harsh grass slope that led up to the local stage.
The enormous Cursive crowd mostly dissipated, but luckily a good number stuck around to be wowed by just how sick a beat Somasphere can make. Really the only truly electronic act at all of MAHA, Somasphere had their spot to fill, and they filled it well. The crowd responded in kind, and no one could have looked happier.
The echoes off the shops behind the festival grounds even seemed to add an extra beat, making Somasphere in the sunlight something inspiring to behold.
Guided by Voices by Jordan Minnick
The crowd was so wound up for Guided by Voices, not even the announcer could get a word in. He actually gave up after overwhelming chants of "G-B-V! G-B-V!" ensued.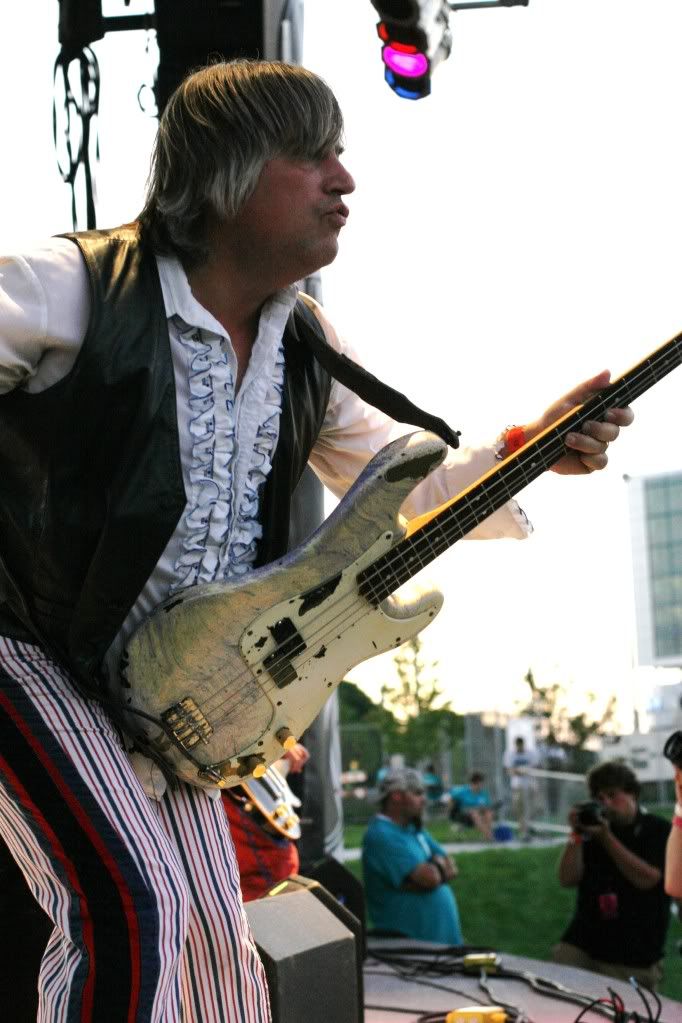 He shot back an, "Awesome, thanks, you guys," and walked off. The crowd laughed it off and settled — until frontman Robert Pollard and company could be seen filing up the sidewalk to the stage. Audience members cheered in a hero's welcome as Pollard played to the energy in airplaned arms. For a legendary indie band reunited with a "classic lineup," any less hype would be ungodly. Especially considering that their MAHA stop was only one of six slotted shows this summer. This was
the
set of the festival.
They took to a stage readied with a cooler of Bud Light and hand jug of Jose Cuervo (or, as Pollard called it, "scientist juice," glugging one back in a toast to "I am a Scientist" toward the set's end). Very much legends in their own right, they played, acted and breathed epic musicianship. Pollard swung his mic feet over his head time and time again, surging out mid-air kicks to riffs. Guitarist Mitch Mitchell smoked cigarettes on end through the entire set, jolting his strums into large, circling arm swings.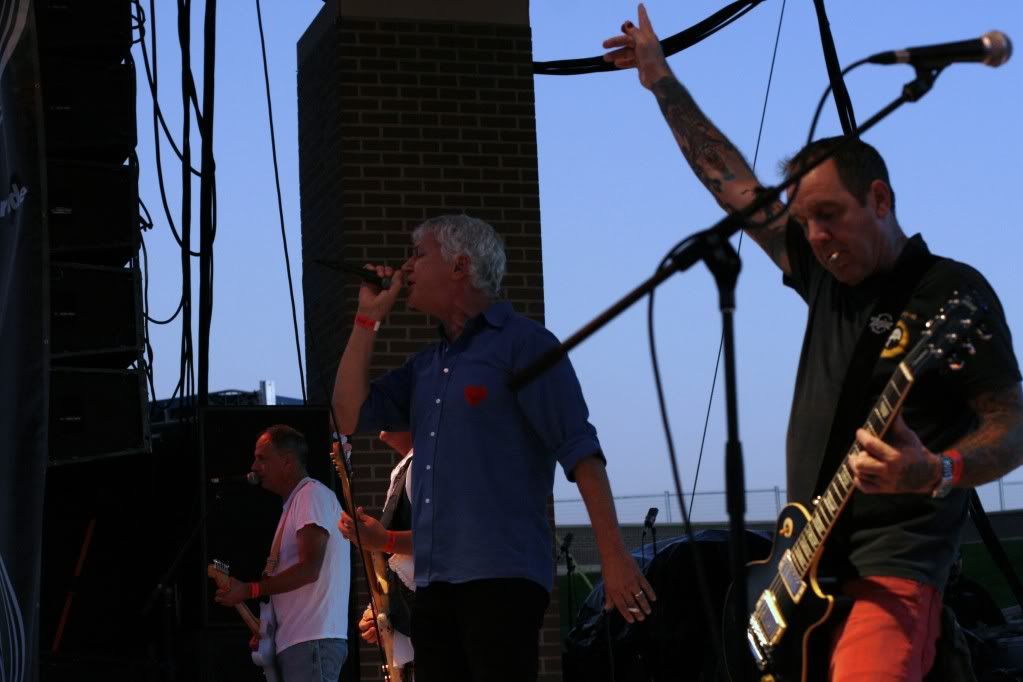 Bassist Greg Demos rocked an outfit out of Robert Plant's wardrobe and pointed the neck of his guitar out to the crowd as he plucked.
Songs like "#2 In The Model Home Series" and "Hot Freaks" distinguished by a low fidelity lightness could be recognized for the sheer grit in Pollard's vocal performance. The crowd surfing and rowdiness that failed to surface during Cursive's set rapidly unfolded with the showcase of the GBV '93-'96 discography. Even a bursting Landon Hedges of Little Brazil was the first to champion a shoulder sit as security hastily motioned him to get off. The sum of the audience immediate to the stage sang along to the whimsically worded, 24-succinct-songed, hour-long set. The rock show was rival to none, though Matisyahu managed bigger numbers.
Matisyahu by Michael Todd
You have to hand it to Matisyahu: He's got mad beat-boxing skills. Now, as far as the rest of his music, is his "life making your mind work in overtime," as he says in "Time of Your Song"? Not quite.
I saw the Jewish pop reggae artist for the first time at 80/35 in Des Moines a couple years back. An early afternoon spot was just the place for a contemporary hip hop-ish act mixed among more traditional rock setups. His duty as headliner at MAHA didn't mesh quite as well, but the throngs of people raising their arms at a 45 degree angle and pumping them up and down probably thought otherwise.
Sure, his lyrics are a collection of cliches (but hey, cliches became as such for a reason), and he's not exactly the most charismatic artist, but who else could say, "We need some people dancing up here," and be met with a quarter of the audience on stage, trying desperately not to fall off?
The part of his set before that last song with a hundred or so backup dancers wasn't bad, but it wasn't stellar. The five-minute beat-boxing solo that left my mouth agape for a few minutes afterward is something to talk about, sure, but with such a knack for vocal gymnastics, it's too bad he's got to fall to pop song structures without interesting samples and with dull lyrics. Oh well.